McDonald's has not-so-helpful budget tips for workers
Its financial basics suggest what most of its fast-food employees already know: They need 2 jobs to make ends meet.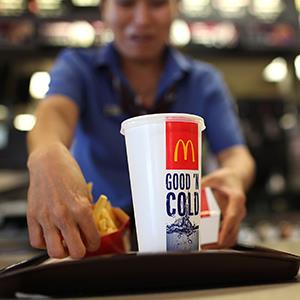 Some McDonald's (MCD) workers might not be lovin' their employer's advice on how to make ends meet: Get a second job -- oh, and forget about budgeting for child care, retirement savings or gas.  

McDonald's and Visa (V) have teamed up to help teach the fast-food chain's workers the basics of household budgeting, but the effort has backfired for its suggestion of working two jobs and for its omission of basics like the water utility. 
For starters, the Practical Money Skills Budget Journal offers two income lines: "1st job" and "2nd job." A sample budget provided by Mickey D's depicts a worker holding down two posts and earning a total of $24,720 per year. But under the monthly expenses portion, the budget leaves out such essentials as water, child care and retirement savings.

While the budget includes a line for "savings," it's unclear whether McDonald's means saving for a basic rainy-day account or for a worker's golden years. 
McDonald's estimate of a fast-food worker's income is also high, given that the average burger flipper earns just $18,720 per year, according to the U.S. Bureau of Labor Statistics.
The fast-food chain defended its budget planner, telling The Huffington Post that the sample budget is "intended to provide a general outline of what an individual budget may look like."
Some of its suggested expenditures are laughably low, such as putting aside $20 a month for health insurance. Employees typically spent $2,204 on health care premiums in 2011, according to the Society for Human Resource Management. That's about $183 per month, or about nine times more than McDonald's suggests.
And forget having children. McDonald's sample budget leaves no room for child care or other expenses related to kids. Given that the average age of a fast-food employee is 29, it's likely that many have children and kid-related costs. 
But the biggest issue for many is simply what the basic math of McDonald's budget suggests: Living on a fast-food income is nearly impossible without sacrificing some basics. 
The company's plan just might provide ammunition for supporters of a higher minimum wage. President Barack Obama is urging a $9 federally mandated hourly rate, up from the current $7.25. Based on McDonald's math of workers earning $24,720 per year, employees would receive an hourly wage of $11.88, assuming a 40-hour week (and no second job.)
You can bet its employees would end up lovin' that.
Follow Aimee Picchi on Twitter at @aimeepicchi. 

DATA PROVIDERS
Copyright © 2014 Microsoft. All rights reserved.
Fundamental company data and historical chart data provided by Morningstar Inc. Real-time index quotes and delayed quotes supplied by Morningstar Inc. Quotes delayed by up to 15 minutes, except where indicated otherwise. Fund summary, fund performance and dividend data provided by Morningstar Inc. Analyst recommendations provided by Zacks Investment Research. StockScouter data provided by Verus Analytics. IPO data provided by Hoover's Inc. Index membership data provided by Morningstar Inc.
MARKET UPDATE
[BRIEFING.COM] The major averages ended the midweek session with slim gains after showing some intraday volatility in reaction to the release of the latest policy directive from the Federal Open Market Committee. The S&P 500 added 0.1%, while the relative strength among small caps sent the Russell 2000 higher by 0.3%.

Equities spent the first half of the session near their flat lines as participants stuck to the sidelines ahead of the FOMC statement, which conveyed no changes to the ... More
More Market News