Medieval peasants got more vacation than Americans
Life back then certainly was worse, but when it comes to time off, serfs had it way better than today's workers.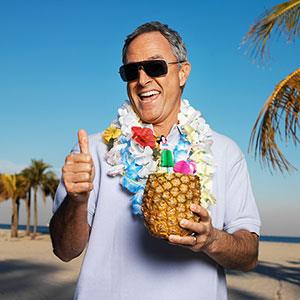 Modern American workers have something to envy in the work life of medieval peasants.  

Serfs living in the medieval period had far more vacation and leisure time than American workers today, according to a study from economist Juliet Schor.
A 13th-century adult male peasant in the U.K. worked an average of 1,620 hours per year, which translates into working 12 hours per day for 135 days a year. Such laborers worked long days during the peak periods (harvesting, planting and so on), but they also enjoyed mandated breaks for meals, unlike today's habit of bolting down lunch at your desk. (Translated into eight-hour days, serfs would have worked the equivalent of about 203 days per year.)
Americans, on the other hand, receive only eight days of vacation annually, and the country remains the only developed nation with no federally mandated vacation policy, Reuters notes.
For medieval serfs, "Work was intermittent -- called to a halt for breakfast, lunch, the customary afternoon nap, and dinner. Depending on time and place, there were also midmorning and midafternoon refreshment breaks. These rest periods were the traditional rights of laborers, which they enjoyed even during peak harvest times," Schor writes. 
On top of that, peasants enjoyed slack periods, as well as frequent holidays. The church calendar mandated breaks not only at Christmas and Easter, but at midsummer and many saints' and rest days. 
The study points out that the assumption that capitalism has reduced our workload isn't necessarily true. "This myth is typically defended by a comparison of the modern forty-hour week with its seventy- or eighty-hour counterpart in the nineteenth century," Schor writes. 
The overworked Victorian, toiling away for 70 to 80 hours a week, was actually an aberration in the history of human work patterns, she notes. The average U.S. worker in 1850 labored as much as 3,650 hours per year, or as much as 52 weeks of 14-hour days. 
Comparing today's labor habits to the extreme demands of the 19th century, when industrialization swept across Western countries, helps cement what Schor calls one of the "durable myths" of capitalism. 
And even when Americans take vacations today, they might not be truly kicking back. Almost two-thirds of employed workers said they planned to work on their summer vacations this year, up from 52% of workers last year. 
To be sure, no one would want to swap places with a medieval peasant. Getting medically treated by leeches isn't all too appealing. And capitalism, while perhaps not ensuring the vacation days that past generations enjoyed, has absolutely improved the quality of life. 
Without capitalism, after all, there would be no Apple (APPL) laptops or Samsung smartphones. And without those devices, working while on vacation wouldn't be half as easy.
Follow Aimee Picchi on Twitter at @aimeepicchi.
DATA PROVIDERS
Copyright © 2014 Microsoft. All rights reserved.
Fundamental company data and historical chart data provided by Morningstar Inc. Real-time index quotes and delayed quotes supplied by Morningstar Inc. Quotes delayed by up to 15 minutes, except where indicated otherwise. Fund summary, fund performance and dividend data provided by Morningstar Inc. Analyst recommendations provided by Zacks Investment Research. StockScouter data provided by Verus Analytics. IPO data provided by Hoover's Inc. Index membership data provided by Morningstar Inc.
MARKET UPDATE
[BRIEFING.COM] The major averages ended the midweek session with slim gains after showing some intraday volatility in reaction to the release of the latest policy directive from the Federal Open Market Committee. The S&P 500 added 0.1%, while the relative strength among small caps sent the Russell 2000 higher by 0.3%.

Equities spent the first half of the session near their flat lines as participants stuck to the sidelines ahead of the FOMC statement, which conveyed no changes to the ... More
More Market News