Men's Wearhouse blames women for slow sales
The company's CEO says superstitious brides dragged down the clothing chain's numbers. Last quarter's earnings report suggests otherwise.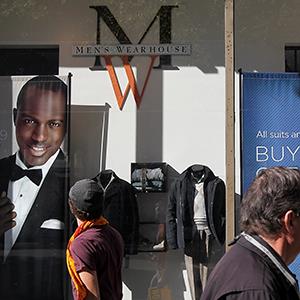 Chicks, man.
A dude can't even badmouth suffrage, pop his collar and view the world through privilege-colored aviators without a bunch of women jumping all over his case. They've been thinking differently than guys since grade school and have been eroding the masculinity of poor, insecure brohams for generations.
Now they won't even let you buy a decent suit or tux. Men's Wearhouse (MW)  chief executive Doug Ewert knows his company's net income fell 28% in the second quarter, but isn't ready to blame an early Easter that pushed prom tuxedo rentals earlier than usual or the company's swift and unexpected canning of founder and commercial figurehead George Zimmer in June.
No, the true obstacles to menswear dominance are feeble, superstitious ladybrains and the power-wielding harpies using them. Let's hear from Ewert for more:
"We believe that the number 13 in 2013 is causing a small, but meaningful number of brides to avoid getting married this year," Ewert said on a call with analysts Thursday, according to The Wall Street Journal.
Read that again. That's a real explanation that a grown man in charge of a publicly traded company gave to analysts trying to determine the strength and stability of his business. What leads a person occupying a company's most powerful position to make that claim?
Maybe it's the long-held heartache of seeing his mother permanently paralyzed after he stepped on a crack on the way to grade school. Maybe it's the black cat that, before crossing his path, told him that people would never take him seriously as long as they believed that nice guy with the beard in the commercials was running the company. Maybe he did the same Google search The Wall Street Journal did and came up with the one article featuring a woman who outright refused to get married in 2013, but tied the knot in 2012.
Either way, the source of Men's Wearhouse's woes is obviously those darned dames. After all, with female doctors making $56,000 less than their male counterparts for doing the same jobs, the rest of the female workforce essentially working 59 days a year for free and no real chance of the gender pay gap shrinking until 2056, it's clear that women have the male professional world right where they want it. It's only a matter of time until suits disappear entirely and men are forced to dress according to whatever fickle little whim their female overlords are following on any given day.
How corporate earnings calls devolved into the premise for a bad '80s battle-of-the-sexes sitcom, however, is somewhat less apparent.
DATA PROVIDERS
Copyright © 2014 Microsoft. All rights reserved.
Fundamental company data and historical chart data provided by Morningstar Inc. Real-time index quotes and delayed quotes supplied by Morningstar Inc. Quotes delayed by up to 15 minutes, except where indicated otherwise. Fund summary, fund performance and dividend data provided by Morningstar Inc. Analyst recommendations provided by Zacks Investment Research. StockScouter data provided by Verus Analytics. IPO data provided by Hoover's Inc. Index membership data provided by Morningstar Inc.
MARKET UPDATE
[BRIEFING.COM] The S&P 500 trades lower by 0.4%, while the Russell 2000 (-0.9%) underperforms.

Just reported, existing home sales hit an annualized rate of 5.05 million units in August, while the Briefing.com consensus expected a reading of 5.20 million. The pace for August was up from the prior month's revised rate of 5.14 million units (from 5.15 million). Nasdaq -26.88 at 4552.91... NYSE Adv/Dec 559/2272... Nasdaq Adv/Dec 561/1935.
More Market News