More Americans want smoking banned entirely
A new poll shows that 22% of the country want the habit obliterated. That's up from 12% in 2007.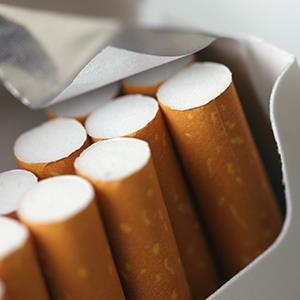 More than one in five Americans want to ban smoking outright, a new Gallup poll
shows
.
About 22% of those surveyed say they want the habit to become completely illegal. That's a pretty large jump from 2007, when only 12% favored an across-the-board ban.
Who, exactly, is supporting the ban? It's not the stereotypical educated white yuppie who's downing chia seed smoothies between yoga classes.
Instead, the ones who really hate smoking are non-whites. A full 39% support a universal ban, compared with 15% of whites. And high school dropouts or those with only a high school diploma also support a ban, at 29% compared with 16% of college graduates.
That's particularly notable, Gallup says, because Americans with no college education are the ones most likely to smoke.
Here's another surprise: A full 9% of smokers want their habit to be made illegal. Either they have a thing for breaking the rules or they're so desperate to quit that they want the long arm of the law to help out.
What hasn't changed much is the large number of Americans who think that smoking and secondhand smoke will hurt you. About 82% think smoking is very harmful, while 13% think it's somewhat harmful. Only 4% say smoking is not harmful.
Lawmakers have responded to Americans' preferences, Gallup researchers note. Now, 28 states and the District of Columbia have laws against smoking in most public places, including restaurants and bars.
Cigarette companies have been dealing with declining U.S. sales for years. Health concerns play a part, to be sure, but also impacting sales are rising taxes, tougher smoking bans and a social stigma that comes with smoking, The Associated Press
reports
.
DATA PROVIDERS
Copyright © 2014 Microsoft. All rights reserved.
Fundamental company data and historical chart data provided by Morningstar Inc. Real-time index quotes and delayed quotes supplied by Morningstar Inc. Quotes delayed by up to 15 minutes, except where indicated otherwise. Fund summary, fund performance and dividend data provided by Morningstar Inc. Analyst recommendations provided by Zacks Investment Research. StockScouter data provided by Verus Analytics. IPO data provided by Hoover's Inc. Index membership data provided by Morningstar Inc.
MARKET UPDATE
[BRIEFING.COM] Equity indices remain near their best levels of the session. The S&P 500 trades higher by 0.4%, while the Nasdaq Composite (+0.5%) displays relative strength.

The Nasdaq has received significant support from tech stocks, which have been able to overshadow the underperformance of biotechnology. Top-weighted sector components like Apple (AAPL 102.12, +0.54), SAP (SAP 77.19, +0.67), and Qualcomm (QCOM 76.32, +0.49) display gains between 0.5% and 0.9%, ... More
More Market News
TOP STOCKS
Meet Alibaba's new billionaires
Despite its size, the IPO will create just two new members of the 10-figure club from its executive ranks. A few others could net hundreds of millions.