More families have an out-of-work parent
This is just one point in a new Census Bureau report on the recession's ongoing impact on Americans, long after it ended.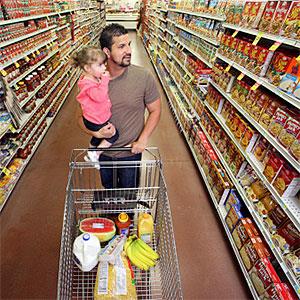 Even though the recession ended in 2009, the impact on families continues to linger. 

The number of American households with children that also had at least one unemployed parent rose by one-third between 2005 to 2011, according to a new report from the U.S. Census Bureau.
That means 3.2 million U.S. families had a parent unemployed in 2011, just one of the factors that have led to a worsening financial outlook for families, Census officials say. At the same time, Americans are still far from climbing back to the median income they enjoyed before the recession. 
"During the recession, economic well-being worsened for families with children," Jamie Lewis, a demographer in the Census Bureau's Fertility and Family Statistics Branch, said in a statement. 
Food stamp usage among families surged as economic stability weakened, the report found. The percentage of children living with two married parents who received food stamps more than doubled to 11%, even though families with two married parents typically fared better than single parents during that time, the study found. 
Americans are tending to live in smaller households. The share of households of married couples with children, for example, dwindled to 20% in 2012 from 40% in 1970. 
But at the same time, kids are sticking around their parent's homes for longer. About 17% of young men between 25 to 34 lived at their parent's house in 2012, up from 13% in the early 2000s. Women are more likely to leave the nest, although one out of 10 women in the age group are living at home, up from 8% in 2000. (Still, that's significantly less than the 40% of young men between 18 to 31 who are living at home.) 
The findings illustrate that despite the recession's official end, many American families continue to struggle. A study published last week from two former Census Bureau officials found that nearly every group was worse off today than four years ago, with the exception of senior citizens. 
Homeownership also slipped as the number of families with children who own their own homes declining by 15%, the study found. 
It may be that some families have opted out of the costs and work entailed with homeownership. But the Census report notes that some of the states with the steepest declines in family homeownership -- think of Florida or California -- also suffered the biggest rise in unemployment rates. 
Follow Aimee Picchi at @aimeepicchi. 

Really had to dig deep to get this story!  Here's a news fla**** gonna get worse before it gets better. Employer's are in a holding pattern for new hires due to the new health care regulations.  If they are desperate enough they are hiring "independent contractors" and part time workers. <- no benefits!  That coupled with the fact that there is no more loyalty between companies and their employees.  We are supposed to be loyal to them but there is no loyalty in return.  MAKE MONEY at all costs.  That's where companies are today.  How ? you may ask. Cut,cut cut.  The remaining employees will do the job.  They better or they will be the next to be cut.  I read a help wanted add the other day that said we hire only the best.  They pay $10 per hour.  Direct deposit is now a benefit.  How low can we sink?
One last thing.  I'm almost positive that we have a government agency that focuses it's attention on Health and Human Services.  I'm positive I read that somewhere.  Why don't we (the government)hire the best and brightest (and yes there are still some left) to find cures for the many illnesses out there.  Drug companies won't do it cause there is no money in cures only drug additions.  What's the last disease they cured?  We could cut health care costs that there would be no need for insurance, Medicare, Medicaid.  Then we could get back to chasing that elusive American dream which has recently become a nightmare.

Wow, MSN.  Grouping food stamps in this article about families with one out of work parent doesn't make a whole lot of sense when one of the requirements for families to receive SNAP (at least in our state) is that BOTH parents are employed at least 30 hrs a week or they can't receive them.  Yes, it could be that they have children under six or disabled and get an exemption, but for the most part, if one of you doesn't work, you don't get them. 
Are you sure you want to delete this comment?
DATA PROVIDERS
Copyright © 2014 Microsoft. All rights reserved.
Fundamental company data and historical chart data provided by Morningstar Inc. Real-time index quotes and delayed quotes supplied by Morningstar Inc. Quotes delayed by up to 15 minutes, except where indicated otherwise. Fund summary, fund performance and dividend data provided by Morningstar Inc. Analyst recommendations provided by Zacks Investment Research. StockScouter data provided by Verus Analytics. IPO data provided by Hoover's Inc. Index membership data provided by Morningstar Inc.
MARKET UPDATE
[BRIEFING.COM] The S&P 500 trades higher by 0.4% with all ten sectors sporting gains. The benchmark index has extended this week's gain to 1.6%, while the Dow Jones Industrial Average (+0.4%) is now higher by 2.0% since last Friday.

The Leading Indicators report for August was up 0.2%, while the Briefing.com consensus expected a reading of 0.4%. That followed a revised increase of 1.1% for July (from 0.9%). Nasdaq +13.77 at 4607.2... NYSE Adv/Dec 1867/883... Nasdaq Adv/Dec ... More
More Market News