Need a job reference? Hire a liar
As the long-term unemployed get desperate, a professional deception industry has sprung up to help. Is it legal?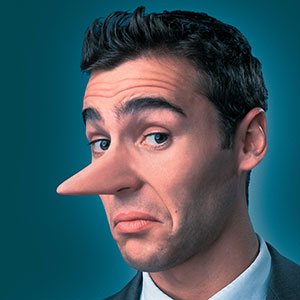 Are you easier to read than "Green Eggs and Ham?" Is your poker face more like an Uno face?
If that's a yes and you need a "sick" day or a reference that will actually say nice things about you instead of exposing you as the slacker you are, it may be time to hire a professional liar. CNNMoney recently profiled one provider of such services, Minnesota-based Paladin Deception Serices, and discovered that not only are professional liars getting clients days off and convenient alibis for engaging in affairs, they're also getting folks hired.
While the site reported that Paladin isn't registered in Minnesota, wouldn't provide tax documents to prove its legitimacy and had its Facebook page pulled in May for being "inappropriate and misleading," it's theoretically part of a growing industry. CareerExcuse.com, for example, offers fake references for job seekers starting at $65. The Reference Store and Fake Your Job advertise similar services.
If Paladin is to be believed, job seekers account for more than 60% of the firm's monthly clients. It's no wonder, in an economic climate where the official unemployment rate still hovers above 7% and the long-term unemployed have either fled the job market or had their unemployment benefits cut.

Just be prepared to go all-in on the lie because it gets intricate. A client has to place a fake company on his resume as his last place of employment, has to consult with the fibbing service about his job history and the details of the job he's applying for and set up a contact number and e-mail address for the fake job. After the lie-addled phone call to the "reference" takes place, the client gets a transcript of the call just in case details are called into question later.
Keep in mind, lying on resumes and conjuring references cost former Yahoo chief executive Scott Thompson and RadioShack CEO David Edmondson their jobs. Paul Evans, a partner at law firm Morgan Lewis & Bockius' Labor and Employment practice, insisted to CNNMoney that such candidates would "spend their entire career looking over their shoulder."

But they may also run afoul of state laws prohibiting the impersonation of others or the interference in an employee-employer contract. That may result in not only a firing, but charges against the company that did the lying.
Still, in the current job climate, such a lie could be just the advantage a job-seeker needs to get him or her back to work. Just remember that the same serial transparency that leads a person to hire a lying pro would still be a detriment when it comes time to cover the tracks.


DATA PROVIDERS
Copyright © 2014 Microsoft. All rights reserved.
Fundamental company data and historical chart data provided by Morningstar Inc. Real-time index quotes and delayed quotes supplied by Morningstar Inc. Quotes delayed by up to 15 minutes, except where indicated otherwise. Fund summary, fund performance and dividend data provided by Morningstar Inc. Analyst recommendations provided by Zacks Investment Research. StockScouter data provided by Verus Analytics. IPO data provided by Hoover's Inc. Index membership data provided by Morningstar Inc.
MARKET UPDATE
[BRIEFING.COM] The stock market finished the Tuesday session on the defensive after spending the entire day in a steady retreat. The S&P 500 (-0.6%) posted its third consecutive decline, while the small-cap Russell 2000 (-0.9%) slipped behind the broader market during afternoon action.

Equity indices were pressured from the start following some overnight developments that weighed on sentiment. The market tried to overcome the early weakness, but could not stage a sustained rebound, ... More
More Market News