New child labor figures: 168 million working
While the numbers are down, the 85 million who work the most dangerous jobs outnumber the entire US population of children.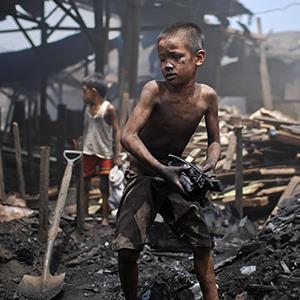 Because good news is in short supply these days, we'll lead with that: The number of child laborers around the world is down to 168 million today from 215 million in 2008. Children performing the most hazardous labor have seen their ranks drop to 85 million from 171 million in 2000.
That's about as cheery as this story gets, and even that information is fairly bleak.

According to the International Labour Office, that pool of 168 million child workers ages 5 through 17 is larger than all but seven nations on the globe. It's bigger than the populations of Bangladesh (152.5 million), Russia (143.5 million), Japan (127.3 million) and Mexico (118.4 million). It's more than double the size of Germany (80.5 million) and nearly the size of France (66 million), the U.K. (63.7 million) and Spain (46.7 million) combined.
Oh, and those 85 million kids working nights and long hours, laboring underground or underwater and being subject to physical, psychological and/or sexual abuse? That's 11 million more children than the U.S. has. It's also not counting the absolute worst forms of child labor -- the forced prostitution and paramilitary service fueled by human trafficking -- because nations don't tend to freely offer accurate numbers on those kinds of transgressions, and many of those children are usually part of the hazardous labor pool anyway.
In case you're curious about the latter, though, the ILO estimated last year about 5.5 million children aged 17 years and younger are being forced into labor. That's roughly a quarter of the 20.9 million people forced to work around the world. That also includes those forced into sexual exploitation (960,000 children), for labor exploitation (3,780,000) and by the state (709,000).
A full 73 million child laborers, or 44% of the total, are children between the ages of 5 and 11. Roughly 59% of them work in agriculture, many on small family farms. But others play a large role in the livestock and fishing industries.
An additional 54 million work in the service industry, with 11.5 million employed as domestic workers and the rest taking unpaid work at hotels and restaurants, manning stands, carts or corners as street sellers or supplementing work in auto repair shops or even transporting customers themselves.
Unpaid family workers account for more than two-thirds of child laborers (68%), followed by paid employment (23%) and the self-employed (8%).
And many of these children do the most dangerous work: at heights or in confined spaces; using dangerous machinery, equipment and tools; manually handling or transporting heavy loads; and working in environments filled with hazardous substances, temperatures, noise levels or even long, painful stretches of fast-paced work. Some 55% of those burdens is carried by children 15 to 17 years old, 81% of whom are boys. Children ages 5-11 still make up 22% of this labor pool, with girls taking 58% of those jobs mostly in domestic work.
The situation looks most acute in Asia, where nearly 78 million children are involved and a full 34 million work in the most hazardous jobs. However, that's 9.3% and 4.1% of Asia's child population, respectively. In sub-Saharan Africa, the 59 million child laborers make up more than 21% of all children. The 29 million children doing hazardous work in that region account for one in 10 of that area's kids.
It's not much prettier in Latin America and the Caribbean, which have 12.5 million child laborers, but a whopping 9.6 million (or 7% of all children) are placed directly in harm's way.

That those numbers are shrinking is great, but they're falling woefully short of the ILO's goal of eliminating dangerous child labor by 2016. Good news is lovely and all, but unrealistic expectations and the lack of financial and political will to get rid of child workers isn't doing much to help the laborers themselves.
DATA PROVIDERS
Copyright © 2014 Microsoft. All rights reserved.
Fundamental company data and historical chart data provided by Morningstar Inc. Real-time index quotes and delayed quotes supplied by Morningstar Inc. Quotes delayed by up to 15 minutes, except where indicated otherwise. Fund summary, fund performance and dividend data provided by Morningstar Inc. Analyst recommendations provided by Zacks Investment Research. StockScouter data provided by Verus Analytics. IPO data provided by Hoover's Inc. Index membership data provided by Morningstar Inc.
MARKET UPDATE
[BRIEFING.COM] The stock market finished the Tuesday session on the defensive after spending the entire day in a steady retreat. The S&P 500 (-0.6%) posted its third consecutive decline, while the small-cap Russell 2000 (-0.9%) slipped behind the broader market during afternoon action.

Equity indices were pressured from the start following some overnight developments that weighed on sentiment. The market tried to overcome the early weakness, but could not stage a sustained rebound, ... More
More Market News