Nike yanks Samoan-inspired tattoo tights
The footwear and apparel giant thought intricate, painful marks used for centuries as a male rite of passage would make great leggings.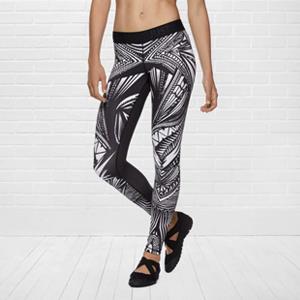 Some things to consider the next time you're putting together a pair of jaunty athletic leggings,
Nike
(
NKE
): Make sure you're not co-opting an entire culture's sacred, painful tradition and, if you are, don't make it a blatant part of your marketing and promotion of the offending item.
According to TVNZ news, Nike has pulled its black-and-white women's Pro Tattoo Tech tights (pictured) after petitioners pointed out that not only was the company ripping off the Samoan Pe'a pattern that's rarely seen on folks who aren't Samoan, but it used the pattern on women's clothing when it's only applied to men.
The pants first appeared on late July and received the following shout-out on Nike's blog: "The NTM (Nike Tight of the Moment) gets all fancy pants again, this time looking to the tattoos of Fiji, Samoa and New Zealand for the latest head-turning design, the Nike Pro Tattoo Tech tights (and sports bra and bodysuit)." Even if the company didn't know that the word tattoo stems from the Samoan "tatau," it's tough to feign complete ignorance after making a statement like that.
The reaction to the stretch pants in question was particularly hostile on a Change.org petition launched on Aug. 2 to protest their sale. "I am 100% Samoan and I find Nike's blatant disrespect and profit over my culture's way of life shameless and irreverent," one comment read. "The tatau is thousands of years old with a tradition of honor and you have reduced it to $80 Spanx. Remove at once!"
Given the tradition and the sheer amount of pain involved in applying Pe'a, the outcry is understandable. PBS dates back the practice nearly 2,000 years and notes that Pe'a can take days to months to complete. It's a rite of passage that's supposed to symbolize courage and commitment to cultural tradition -- both of which are prerequisites for receiving markings that are still applied with sharpened pieces of turtle shell and boar's teeth.
Nike sent this statement to MSN moneyNOW about the issue: "The Nike tattoo tech tights were inspired by tattoo graphics," the company said. "We apologize to anyone who views this design as insensitive to any specific culture. No offense was intended. The tights were of a limited run and no additional tights will be sold."
Nike has goofed before in trying to mix cultural references with apparel sales. Just last year, it introduced a special pair of "Black and Tan" training sneakers for St. Patrick's Day, but had to slink away from those when it discovered that "Black and Tans" weren't Guinness-based drinks that some bartender concocted, but an incredibly malicious British paramilitary unit best known for committing various atrocities against the Irish.
It's not particularly adept at making those connections in the U.S., either. About a month ago, it had to pull a shirt for the NFL's Carolina Panthers when it put a picture of South Carolina on the garment in question. The team plays in Charlotte, which is decidedly in North Carolina. There was far less to chuckle about in April, when Nike pulled T-shirts featuring the blood-splattered words "Boston Massacre" from stores in days after the Boston Marathon was bombed.
DATA PROVIDERS
Copyright © 2014 Microsoft. All rights reserved.
Fundamental company data and historical chart data provided by Morningstar Inc. Real-time index quotes and delayed quotes supplied by Morningstar Inc. Quotes delayed by up to 15 minutes, except where indicated otherwise. Fund summary, fund performance and dividend data provided by Morningstar Inc. Analyst recommendations provided by Zacks Investment Research. StockScouter data provided by Verus Analytics. IPO data provided by Hoover's Inc. Index membership data provided by Morningstar Inc.
MARKET UPDATE
[BRIEFING.COM] The stock market finished the Thursday session on a higher note with the S&P 500 climbing 0.5%. The benchmark index registered an early high within the first 90 minutes and inched to a new session best during the final hour of the action.

Equities rallied out of the gate with the financial sector (+1.1%) providing noteworthy support for the second day in a row. The growth-oriented sector extended its September gain to 1.9% versus a more modest uptick of 0.4% for the ... More
More Market News