Oil by rail draws new scrutiny after Canada disaster
This increasingly common mode of transport throughout North America is leading to heightened safety concerns.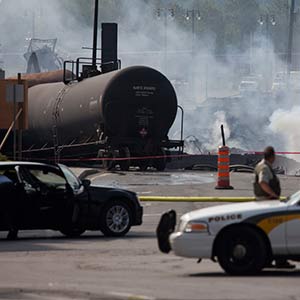 Saturday's deadly and devastating train accident in a small town on the Canada-U.S. border is drawing new attention to the growing amount of crude oil being transported by rail from new production sites in South Dakota, Alberta and elsewhere in North America.
The 72-car freight train that derailed in the town of Lac-Megantic, Quebec (about 155 miles east of Montreal, 10 miles west of the Maine border and 185 miles north of Portland, Maine), was said to be carrying up to 2 million gallons of oil. The ensuing explosion killed at least five people and has left 40 unaccounted for, while flattening much of Lac-Megantic's downtown and forcing thousands of local residents to flee.
The Railway Association of Canada told the Portland Press Herald that Canadian railroads move about 230,000 barrels of crude oil -- about 9.7 million gallons -- every day. And quoting data from American Association of Railroads, Reuters said U.S. railroads have transported nearly 360,000 rail cars of crude and refined oil since the start of the year, up 40% from 2012.
Given the current lack of pipelines from booming deposits like South Dakota's Bakken oil fields and the Canadian oil sands in Alberta, Reuters noted the recent uptick in moving oil by rail "represents a small but important new source of revenue for big operators like Canadian Pacific Railway (CP)and Warren Buffett's BNSF (a subsidiary of Berkshire Hathaway (BRK/A)), which have suffered a drop in coal cargo."
"It is also a flexible and cheaper option to more expensive European or African crude for refiners like Irving Oil," the wire service added, "which confirmed on Sunday that the train was destined for its ... plant in Saint John, New Brunswick."
The ill-fated train's route would have taken it through Maine, a controversial issue since the crude oil trains began traversing the state in May of last year. Just last month, several people were arrested when a group of protestors tried to block one of the oil trains about 30 miles from the state capital of Augusta.
One of the people involved in that protest, Meaghan LaSala with the activist group 350 Maine, called the derailment and explosion in Quebec "devastating." She told the Press Herald: "It's also exactly what we were afraid could happen in Maine, or any community along the routes where crude is headed all across the country."
The accident could become a factor in President Barack Obama's pending decision on the proposed $5.3 billion Keystone XL oil pipeline from Canada to the American Midwest. The railroad industry is also closely monitoring the developments in Quebec.
"It's going to give the entire North American continent pause," Chop Hardenbergh, editor of Atlantic Northeast Rails & Ports, said in an interview with the Press Herald. "I don't think this is a Maine issue. It's a national issue."

DATA PROVIDERS
Copyright © 2014 Microsoft. All rights reserved.
Fundamental company data and historical chart data provided by Morningstar Inc. Real-time index quotes and delayed quotes supplied by Morningstar Inc. Quotes delayed by up to 15 minutes, except where indicated otherwise. Fund summary, fund performance and dividend data provided by Morningstar Inc. Analyst recommendations provided by Zacks Investment Research. StockScouter data provided by Verus Analytics. IPO data provided by Hoover's Inc. Index membership data provided by Morningstar Inc.
MARKET UPDATE
[BRIEFING.COM] S&P futures vs fair value: -6.30. Nasdaq futures vs fair value: -14.80. U.S. equity futures trade hover near their pre-market lows amid cautious action overseas. The S&P 500 futures hover six points below fair value, which puts the benchmark index on track to continue its retreat after losing 0.8% yesterday.

Overnight, markets in Asia traded in mixed fashion, but sentiment worsened after the start of the European session, where all the key indices hold losses ... More
More Market News