Older prisoners cost taxpayers $16 billion a year
The biggest segment of the incarcerated population is over 55, and a big chunk of that bill goes for medical care.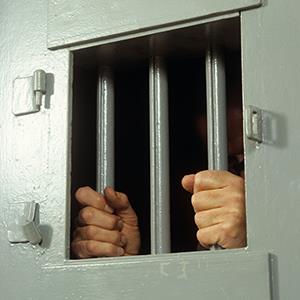 When 89-year-old Anthony Marshall began his prison term last month, he joined one of the fastest-growing population segments behind bars: prisoners older than 55. 

But Marshall -- who was convicted of swindling Brooke Astor, his wealthy philanthropist mother -- won't serve his sentence in a regular prison cell because of his age and poor health. Suffering from Parkinson's and needing a wheelchair, Marshall is confined to an infirmary at a New York prison. 
The annual price tag for incarcerating Marshall and other elderly prisoners? A whopping $16 billion a year, NBC News reports. About $3 billion of that goes to health care for sick or dying elderly inmates.
The high cost of treating older prisoners is partially due to their relatively poor health compared with people of the same age in the general population. Because of that, some states consider an inmate "elderly" at age 50. 
Americans serving time are more likely to have abused drugs and alcohol and to have had poor health care earlier in life, Fordham University professor Tina Maschi told NBC News. 
Spending on older prisoners varies from state to state, but taxpayers everywhere fork over more to treat elderly inmates. Take Georgia, where the average medical care cost for prisoners under 65 is $961. For those over 65 the figure vaults to $8,565 per year.
Because of the huge expenses for keeping older people behind bars, some states are trying to spring seniors free. In 2011, Louisiana passed a law that makes it easier for some older prisoners to seek parole. 
Releasing older prisoners could save states an average of more than $66,000 per year per prisoner, according to a June 2012 report from the American Civil Liberties Union. 
While it's not clear how much Marshall's health care will cost, there's one irony about the situation. He'll likely drain taxpayers of a pretty penny, even though he's one of the few prisoners who could likely pay any price for his own nursing and medical care. 
Follow Aimee Picchi on Twitter at @aimeepicchi. 

Prison was originally meant to be for the violent criminals that pose a life-threatening risk to others.
It was not meant for white collar non-violent crimes or dead beat parents.
In fact, the US  has been get far closer to having a debtors prison. Anyone that can't afford to pay fines or child support, even if they can prove they can't work or find a job are being put in prison.

Reevaluate their crimes and stop using the prison industry as a means to treat them as if they are inhumane and stop degrading them by using them as slaves to market the new modern day slave trade business.If that's the case ALL things made in the USA should be sold cheaper because of the limited capital used to produce and manufacture it here by the hands of men and woman who work for pennies on the dollar much less than minimum wage. Hmmm if you ask me those who work in prison and jail earn their healthcare because they aren't getting paid their worth for their LABOR.

Are you sure you want to delete this comment?
DATA PROVIDERS
Copyright © 2014 Microsoft. All rights reserved.
Fundamental company data and historical chart data provided by Morningstar Inc. Real-time index quotes and delayed quotes supplied by Morningstar Inc. Quotes delayed by up to 15 minutes, except where indicated otherwise. Fund summary, fund performance and dividend data provided by Morningstar Inc. Analyst recommendations provided by Zacks Investment Research. StockScouter data provided by Verus Analytics. IPO data provided by Hoover's Inc. Index membership data provided by Morningstar Inc.
MARKET UPDATE
[BRIEFING.COM] The stock market finished an upbeat week on a mixed note. The S&P 500 shed less than a point, ending the week higher by 1.3%, while the Dow Jones Industrial Average (+0.1%) cemented a 1.7% advance for the week. High-beta names underperformed, which weighed on the Nasdaq Composite (-0.3%) and the Russell 2000 (-1.3%).

Equity indices displayed strength in the early going with the S&P 500 tagging the 2,019 level during the opening 30 minutes of the action. However, ... More
More Market News