Online drug kingpin Dread Pirate Roberts opens up
The shadowy head of illicit marketplace Silk Road espouses libertarian ideals from behind a wall of encryption.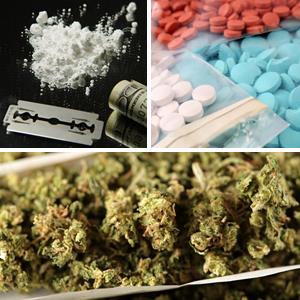 If Tony Montana diversified his supply, took his whole operation online and held loftier political ideals, would "Scarface" have ended differently?
With big thanks to Forbes tech writer Andy Greenberg's dogged, eight-month pursuit of the man known only as The Dread Pirate Roberts -- who founded the Silk Road online marketplace for heroin, meth, crack, cocaine, LSD, ecstasy and marijuana -- we may get that answer.

Roberts welcomes 60,000 visitors a day to Silk Road, keeps its server location shielded with secure anonymity software, uses digital-currency Bitcoin to conduct transactions, vacuum-seals and discreetly mails drugs via the U.S. Postal Service and brings in between $30 million and $45 million in revenue a year.
Roberts agreed to talk partially because a competing and far more public site, Atlantis, is encroaching on his market. Mostly, however, he seems keen on spreading the idea of building a market free from state taxation and regulation.
"What we're doing isn't about scoring drugs or 'sticking it to the man,'" he told Greenberg. "It's about standing up for our rights as human beings and refusing to submit when we've done no wrong."
Yet the key to his existence isn't methamphetamines or cocaine, but the Bitcoins that have seen their value grow 200-fold against the dollar as they become the digital currency of choice for sites peddling cyberattacks, weapons, explosives and stolen credit cards. Easy to launder and tough for agencies like the FBI to track, Bitcoins are more anonymous than cash.

"We're talking about the potential for a monumental shift in the power structure of the world," Roberts writes. "The people now can control the flow and distribution of information and the flow of money. Sector by sector, the State is being cut out of the equation and power is being returned to the individual."
The Dread Pirate Roberts is even tougher to pin down. Using an name from the '80s fantasy film "The Princess Bride" that is handed down from one pirate to another in the film's lore, the current Roberts says he didn't found Silk Road and only took over the site last February.
He then began posting lofty manifestos about Silk Road's libertarian political ideals and hosted a Dread Pirate Roberts Book Club where he moderated discussions on authors from the Austrian school of free-market economics.

Commenters on the site describe Roberts as a "hero," a "job creator" and "our own Che Guevara," and say his name will live on "among the greatest men and women in history as a soldier of justice and freedom." That dovetails with Roberts' argument that if his users want heroin and crack, they should have the freedom to buy it and deal with the consequences -- though he bans the sale of child pornography, stolen goods or weapons.
The Drug Enforcement Administration, meanwhile, says it's aware of the site and is "very proactive in keeping abreast" of its "ever-evolving technological advancements." Sen. Chuck Schumer, D-N.Y., meanwhile, has demanded Silk Road be shut down and called it "the most brazen attempt to peddle drugs online that we have ever seen. . . by light-years." Meanwhile, even the less druggy corners of the DarkNet are under increasing pressure after former NSA Eric Snowden's revelations, with two email providers shut down in their wake.
Are you sure you want to delete this comment?
DATA PROVIDERS
Copyright © 2014 Microsoft. All rights reserved.
Fundamental company data and historical chart data provided by Morningstar Inc. Real-time index quotes and delayed quotes supplied by Morningstar Inc. Quotes delayed by up to 15 minutes, except where indicated otherwise. Fund summary, fund performance and dividend data provided by Morningstar Inc. Analyst recommendations provided by Zacks Investment Research. StockScouter data provided by Verus Analytics. IPO data provided by Hoover's Inc. Index membership data provided by Morningstar Inc.
MARKET UPDATE
[BRIEFING.COM] The stock market finished an upbeat week on a mixed note. The S&P 500 shed less than a point, ending the week higher by 1.3%, while the Dow Jones Industrial Average (+0.1%) cemented a 1.7% advance for the week. High-beta names underperformed, which weighed on the Nasdaq Composite (-0.3%) and the Russell 2000 (-1.3%).

Equity indices displayed strength in the early going with the S&P 500 tagging the 2,019 level during the opening 30 minutes of the action. However, ... More
More Market News