Homeowners getting paid to tear out their lawns
Communities where water is scarce are offering incentives to use alternatives to grass as landscaping.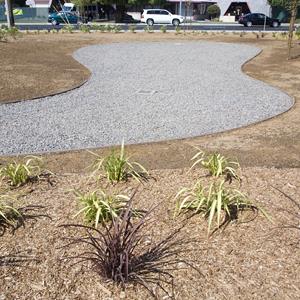 Are you ready to give up grass on your front lawn? For a lot of Americans, the care and maintenance of a soft, beautiful and uniformly green lawn is a birthright -- no matter what part of the country you live in.
But that mindset may be slowly evolving, as more communities, especially in the water-parched Southwest, use a carrot-and-stick approach to get people to rip out their Kentucky bluegrass and other water-reliant grasses, and replace them with native turf, cacti and other drought-resistant succulents.
The "stick" part of this equation is well-known, especially to people living in areas with drought restrictions: escalating fines and other penalties for residents discovered using too much water. But many communities are also getting results by financially rewarding those who replace that constantly thirsty grass with other landscaping.
The New York Times ran a story Sunday about such conservation efforts in California, Nevada, Arizona, Texas and other states where water demand is rising and water itself is a very valuable commodity. In Los Angeles, for example, it noted that since 2009 the city has paid homeowners over $1.4 million to get rid of grassy lawns.
But the article says Las Vegas has undergone the most radical change when it comes to local greenery. The Las Vegas Valley Water District, responding to a devastating drought in 2003, came up with what's thought to be the nation's first "turf removal rebate program." In the ensuing decade, the district has paid out close to $200 million to redevelop close to 166 million square feet of previously grass-covered land at homes and businesses.
The rebate rules are strict, however. Watering is very limited, and according to The Times, homeowners who agree to the rebate "must sign a deed restriction stating that even if the property were to be sold, grass could not be reinstalled unless the new owner paid back the rebate, with interest."
Officials say the program is working, even though the population in metro Las Vegas continues to grow. The Water District has saved over 9 billion gallons of water over the past 10 years, while water use in southern Nevada has dropped by a third.
"The era of the lawn in the West is over," Paul Robbins, the director of the Nelson Institute for Environmental Studies at the University of Wisconsin, told The Times. "The water limits are insurmountable, unless the Scotts Company develops a genetically modified grass that requires almost no water. And I'm sure it's keeping them up at night."

Scotts Miracle-Gro (SMG) -- one of the giants in the lawn industry -- is indeed working on new grasses that are less thirsty but still look and feel like the lawns many Americans know and love.
DATA PROVIDERS
Copyright © 2014 Microsoft. All rights reserved.
Fundamental company data and historical chart data provided by Morningstar Inc. Real-time index quotes and delayed quotes supplied by Morningstar Inc. Quotes delayed by up to 15 minutes, except where indicated otherwise. Fund summary, fund performance and dividend data provided by Morningstar Inc. Analyst recommendations provided by Zacks Investment Research. StockScouter data provided by Verus Analytics. IPO data provided by Hoover's Inc. Index membership data provided by Morningstar Inc.
MARKET UPDATE
[BRIEFING.COM] Equity indices remain near their best levels of the session. The S&P 500 trades higher by 0.4%, while the Nasdaq Composite (+0.5%) displays relative strength.

The Nasdaq has received significant support from tech stocks, which have been able to overshadow the underperformance of biotechnology. Top-weighted sector components like Apple (AAPL 102.12, +0.54), SAP (SAP 77.19, +0.67), and Qualcomm (QCOM 76.32, +0.49) display gains between 0.5% and 0.9%, ... More
More Market News
TOP STOCKS
Meet Alibaba's new billionaires
Despite its size, the IPO will create just two new members of the 10-figure club from its executive ranks. A few others could net hundreds of millions.