Poverty hurts your ability to think, study says
New research suggests the poor are so preoccupied with money issues that they make more errors and bad decisions, which continue the cycle of financial problems.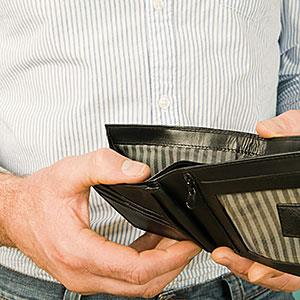 What do being broke and not being able to sleep have in common? According to a new study, both can tax your brain.
A person preoccupied with money problems can have a decrease in their mental abilities similar to a 13-point drop in IQ -- or about the same as trying to function normally after losing an entire night's sleep.
A team of international researchers says poverty and all its concerns use up so much mental energy that a poor person is more likely to make more mistakes and bad decisions, which in turn can deepen their financial woes.
The study, published in the journal Science, tested several hundred people at random in a New Jersey mall over the course of a year -- having them perform common intelligence and cognition tests while asking them to solve scenarios involving sudden and costly financial problems. The same test was also conducted with hundreds of sugarcane farmers in India.
"These findings fit in with our story of how scarcity captures attention. It consumes your mental bandwidth," Jiaying Zhao, one of the study's co-authors, said in a press statement published by Princeton University. "Just asking a poor person to think about hypothetical financial problems reduces mental bandwidth. This is an acute, immediate impact, and has implications for scarcity of resources of any kind."
The researchers say the "mental tax" poverty and money concerns put on the brain is different from stress.
The poor "don't have leftover bandwidth to devote to other tasks," noted Eldar Shafir, a professor of psychology and public affairs at Princeton and another of the study's co-authors. "The poor are often highly effective at focusing on and dealing with pressing problems. It's the other tasks where they perform poorly."
One of poverty's vicious cycles, the study says, is how being poor dominates a person's time and therefore their thinking.
"There's very little you can do with time to get more money, but a lot you can do with money to get more time," Shafir said. "The poor, who our research suggests are bound to make more mistakes and pay more dearly for errors, inhabit contexts often not designed to help."
Zhao, meanwhile, says the study undermines claims that poverty can be blamed on a person's personal failings or environment.
"We're arguing that the lack of financial resources itself can lead to impaired cognitive function," she said. "The very condition of not having enough can actually be a cause of poverty."
More on moneyNOW
DATA PROVIDERS
Copyright © 2014 Microsoft. All rights reserved.
Fundamental company data and historical chart data provided by Morningstar Inc. Real-time index quotes and delayed quotes supplied by Morningstar Inc. Quotes delayed by up to 15 minutes, except where indicated otherwise. Fund summary, fund performance and dividend data provided by Morningstar Inc. Analyst recommendations provided by Zacks Investment Research. StockScouter data provided by Verus Analytics. IPO data provided by Hoover's Inc. Index membership data provided by Morningstar Inc.
MARKET UPDATE
[BRIEFING.COM] The stock market finished the Tuesday session on the defensive after spending the entire day in a steady retreat. The S&P 500 (-0.6%) posted its third consecutive decline, while the small-cap Russell 2000 (-0.9%) slipped behind the broader market during afternoon action.

Equity indices were pressured from the start following some overnight developments that weighed on sentiment. The market tried to overcome the early weakness, but could not stage a sustained rebound, ... More
More Market News