Powerball winners now face their toughest odds
Three winning tickets were sold in the $448 million jackpot, but the newly rich will face daunting and even life-or-death choices.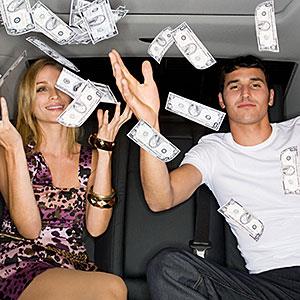 The holders of the three winning tickets in the $448 million Powerball lottery have it made, right? After all, their millions will surely solve problems big and small. 

But if history is anything to go on, winning comes with a dark side. That means the Powerball millionaires are now facing their toughest -- and most gut-wrenching -- odds: how to maintain their windfalls and avoid the unpleasant fates of many previous winners. 
Those unsavory outcomes include murder, bankruptcy and premature death. As of Thursday morning, no one had come forward to claim the prizes. Two of the winning tickets were sold in New Jersey and one in Minnesota. (Sorry, Pennsylvania, which had held the record for the most number of winning Powerball tickets.)
Poor financial choices are the biggest problems facing lottery winners. Extra-big winners incur a larger chance of filing for bankruptcy, according to a 2010 paper from researchers at the University of Kentucky, University of Pittsburgh and Vanderbilt University. Winners of jackpots of more than $150,000 were more likely to file for bankruptcy three to five years after winning, compared with winners of less than $10,000.
Stories of bad investments from lottery winners are legendary, such as that of William "Bud" Post, who won $16.2 million but allowed his siblings to persuade him to invest in schemes such as a used-car lot and a Florida restaurant. His obituary described him as an "unhappy lottery winner." At his death, he was reportedly living on a $450-per-month disability check.
Those stories underscore the necessity of shelling out for a financial adviser, or even a team of experts, to help keep winners from making poor decisions. According to Pacifica Wealth Advisors, which bills itself as a firm that works with "sudden wealth recipients," winners should also plan on using several types of attorneys, such as experts in taxes and trusts.
Aside from losing it all, lottery winners also have to cope with "positive income shock" -- or, as the Daily Beast calls it, the "lotto death curse." Windfalls can actually increase the risk of death, the publication notes, citing research from the Paris School of Economics.
Sometimes early death comes from hard living, such as with British winner Keith Gough, who died at 58 after spending his fortune on drinking and horse racing, among other items.
Then there's death at the hands of other people, such as in the case of Abraham Shakespeare, who won millions in 2006 and was murdered by Dorice Moore after she befriended him on the pretense of writing a book about him. Moore eventually became his financial adviser and swindled him out of his fortune, then shot him and buried his body in her backyard. Moore was found guilty of the murder last year. 
The stories of death and failure might just be enough to make some people glad they didn't strike it rich in Wednesday's drawing. 
Follow Aimee Picchi on Twitter at @aimeepicchi. 
DATA PROVIDERS
Copyright © 2014 Microsoft. All rights reserved.
Fundamental company data and historical chart data provided by Morningstar Inc. Real-time index quotes and delayed quotes supplied by Morningstar Inc. Quotes delayed by up to 15 minutes, except where indicated otherwise. Fund summary, fund performance and dividend data provided by Morningstar Inc. Analyst recommendations provided by Zacks Investment Research. StockScouter data provided by Verus Analytics. IPO data provided by Hoover's Inc. Index membership data provided by Morningstar Inc.
MARKET UPDATE
[BRIEFING.COM] The major averages ended the midweek session with slim gains after showing some intraday volatility in reaction to the release of the latest policy directive from the Federal Open Market Committee. The S&P 500 added 0.1%, while the relative strength among small caps sent the Russell 2000 higher by 0.3%.

Equities spent the first half of the session near their flat lines as participants stuck to the sidelines ahead of the FOMC statement, which conveyed no changes to the ... More
More Market News