Procter & Gamble faces Fixodent zinc poisoning suit
A class action claims the company's denture adhesive causes serious health problems. But P&G questions the plaintiffs' research.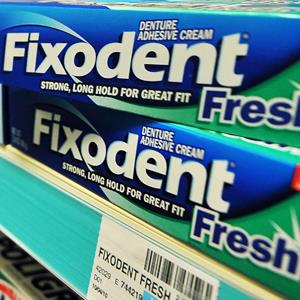 Tens of millions of Americans currently wear dentures, and that number is expected to rise as the nation's population ages. Now there's growing concern that one of the country's most popular denture adhesives may be causing neurological damage in some consumers.
A class-action lawsuit was filed in 2011 by a group of consumers against Procter & Gamble (PG), the makers of Fixodent, and last week a federal judge ruled P&G was entitled to see complete study results from a competitor, Sarfez Pharmaceuticals and Sarfez USA. According to that study, excessive use of Fixodent, which contains zinc, "blocks copper absorption and ultimately leads to neurological injury."
The plaintiffs in the lawsuit complained of numbness, lack of balance, dizziness and growing weakness in their limbs. They paid the Sarfez companies more than $300,000 to conduct the study in India. But during the litigation's discovery phase, Proctor & Gamble "claimed that the set of documents it received was a mess, missing pages of analysis and raw data," according to the Cincinnati Business Courier.
The apparent link between zinc in denture cream and so-called zinc poisoning came to light in a 2008 medical study. In 2011, GlaxoSmithKline (GSK) paid at least $120 million to resolve more than 100 lawsuits regarding zinc-related health risks connected to the company's Poligrip denture cream. Glaxo also agreed to remove zinc from its line of Poligrip denture adhesives.
Procter & Gamble has said it knows of no valid evidence that Fixodent, when used as directed, causes health problems.
"Our Fixodent formula has undergone extensive scientific testing, and we continuously monitor for its safe use," the company said in a 2011 statement it released to ABC News. "As with many of our products, we have updated the information we provide on our Fixodent packaging and our website over time to ensure consumers know how to use the product properly."

I have used Fixodent since I got full dentures and the age of 30 due to a couple of helicopter crashes in Vietnam.  I am now 70 and I have felt not adverse effects from using this product.
It sounds like another money grabbing lawsuit  to get to a company that is well insured and has plenty of money.  There is nothing wrong with the product, but they have a lot of money and the entitled people think that they deserve it and the lawyers will make a ton of money off of it.
Will all of you people please go away !!!!!

Dirt bag lawyers will find a way to get this case protracted out so that an out of court settlement makes economic sense to the company. All class action lawsuits provide millions for lawyers with pocket change left over typically distributed to class action participants.
Liability law has been relegated to legalized theft against large companies which always gets baked into prices of the goods and services which in turn every American pays.
This country needs to rally around legal system reform. Two very simple changes could radically alter the state of lawsuits in this country:
1) Ban contingency legal fee payments to lawyers
2) Allow defendants being sued to recover all legal expenses from plaintiff  to defend any suit where defendant is found not guilty/not responsible

still waiting for MSN to write that article explaining how democrats in the senate screwed over college students by raisinginterest rates.
will msn have balls?  i dont think so.  pork prices, twinky storage, and lapdance taxes are more important it seams.
typical deflection ofthe liberal media
Are you sure you want to delete this comment?
DATA PROVIDERS
Copyright © 2014 Microsoft. All rights reserved.
Fundamental company data and historical chart data provided by Morningstar Inc. Real-time index quotes and delayed quotes supplied by Morningstar Inc. Quotes delayed by up to 15 minutes, except where indicated otherwise. Fund summary, fund performance and dividend data provided by Morningstar Inc. Analyst recommendations provided by Zacks Investment Research. StockScouter data provided by Verus Analytics. IPO data provided by Hoover's Inc. Index membership data provided by Morningstar Inc.
MARKET UPDATE
[BRIEFING.COM] The stock market finished an upbeat week on a mixed note. The S&P 500 shed less than a point, ending the week higher by 1.3%, while the Dow Jones Industrial Average (+0.1%) cemented a 1.7% advance for the week. High-beta names underperformed, which weighed on the Nasdaq Composite (-0.3%) and the Russell 2000 (-1.3%).

Equity indices displayed strength in the early going with the S&P 500 tagging the 2,019 level during the opening 30 minutes of the action. However, ... More
More Market News