Rare dinosaur bones spark a $9 million battle
Scientists hope to study fossils of 2 prehistoric creatures locked in combat, but instead they're heading for an auction.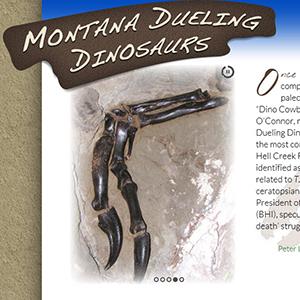 When Clayton Phipps, who goes by the name of Dino Cowboy, hit upon a fossil of two dinosaurs locked in combat, he said he let out a "war whoop."

But the sound coming from paleontologists and museum directors are moans of frustration, The New York Times reports. 
That's because Phipps dug up the "dueling dinos" on private land, allowing him and the landowners to sell the skeletons at auction. The U.S. restricts the collection of fossils only on public lands. As a result, the fossils will go on the block in November, with an expected sale price of as much as $9 million, the paper noted. 
Of course, a deep-pocketed museum could still buy the fossils, or its eventual owner could allow scientists to study the bones. Yet critics say the weak restrictions on fossils, as well as a strong market for dinosaurs, encourage smuggling from other countries and unscrupulous behavior. 
"This lines their pockets but hurts science," Dinosaur Discovery Museum senior scientific adviser Thomas Carr told The New York Times. 
Each of the two animals might be a new type of dinosaur. One is potentially a Nanotyrannus lancensis and the other a Chasmosaurine ceratopsian, a relation of the Triceratops. 
Yet without further study, the Smithsonian wrote in 2011, it's unclear whether the dinosaurs are new genera.
The sellers want to recoup what the Times said is hundreds of thousands spent excavating and preparing the bones. And they've already offered the fossils to a few museums, reportedly offering the Smithsonian a chance to bid at about $15 million. (Neither the Smithsonian nor the American Museum of Natural History, which exhibits dinosaurs it's discovered on its own, plans to participate in the auction.)
Nevertheless, the American Museum of Natural History's paleontology chairman, Mark Norell, told the publication that the find was "unbelievably great." He added, "It's the kind of thing that makes curators like myself salivate."
Follow Aimee Picchi on Twitter at @aimeepicchi. 

Why not work together here? Make a condition of the sale that the scientists get to inspect the fossils(have x time) then the new owner can take them. The finder deserves the right to sell them (no law against that) but there should at least be an inspection done on the fossils to catalog them since they are rare and are what they are. Win win if you ask me.
I think its time
Are you sure you want to delete this comment?
DATA PROVIDERS
Copyright © 2014 Microsoft. All rights reserved.
Fundamental company data and historical chart data provided by Morningstar Inc. Real-time index quotes and delayed quotes supplied by Morningstar Inc. Quotes delayed by up to 15 minutes, except where indicated otherwise. Fund summary, fund performance and dividend data provided by Morningstar Inc. Analyst recommendations provided by Zacks Investment Research. StockScouter data provided by Verus Analytics. IPO data provided by Hoover's Inc. Index membership data provided by Morningstar Inc.
MARKET UPDATE
[BRIEFING.COM] The major averages ended the midweek session with slim gains after showing some intraday volatility in reaction to the release of the latest policy directive from the Federal Open Market Committee. The S&P 500 added 0.1%, while the relative strength among small caps sent the Russell 2000 higher by 0.3%.

Equities spent the first half of the session near their flat lines as participants stuck to the sidelines ahead of the FOMC statement, which conveyed no changes to the ... More
More Market News