Recycling 'RoboCop' won't save movie studios
As remakes and sequels have increased, movie attendance has plummeted. It's more correlation than cause, but it doesn't mean US audiences don't want original ideas.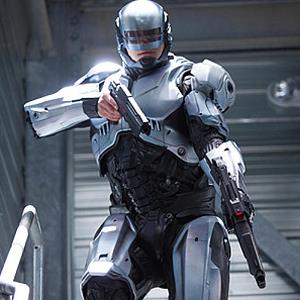 There's 25 years of rust on the original idea, Holder from AMC's "The Killing" in the Judge Dredd-meets-Knight Rider reboot suit and almost none of original director Paul Verhoeven's social commentary on class and consumerism. But, OK, let's get excited about "RoboCop."
The first trailer for director José Padilha's remake of the 1987 cyborg-cop cult classic made the rounds on Friday, along with Padilha's assertion that his version would be super relevant because it mulls the evil use of drones -- you know, like the entire "Terminator" franchise did.

The film comes out in February, and we're all supposed to be duly impressed by the new RoboCop suit -- black is the new stainless steel! -- and its updated politics and computer-generated images.
We're also supposed to pretend that Sony (SNE) didn't pull this off the intellectual property scrap heap, send it to the fabricators for recycling and regurgitate it at us in a more bloated form -- just as we've been doing faithfully for the last decade or so.
The '90s weren't an ideologically pure moment in mass-market U.S. cinema by any means, but seven of the 10 top-grossing films of the decade -- "Home Alone," "Aladdin," "Jurassic Park," "Toy Story," "Independence Day," "Titanic" and "Saving Private Ryan" -- weren't sequels or remakes. But for the last decade, with the exception of "Avatar" in 2009, the top-grossing film each year has been a sequel or part of a franchise.
What's the difference, you ask? Between 1990 and 1999, movie attendance rose from 1.19 billion tickets sold to 1.46 billion. Since 2003, ticket sales dropped from 1.53 billion to just 1.36 billion last year. The blame for the drop in ticket sales to pre-1999 levels doesn't lie exclusively with sequels and remakes -- high-definition TV, the Internet, Blu-ray, streaming and video games are all often cited as culprits -- but they may be a symptom of that drop.
Longtime blockbuster-building​ directors Steven Spielberg and George Lucas made ripples back in June when they suggested that Hollywood was no longer willing to take risk and was content to just throw large sums of money at sure-thing rehashes. The result, they said, would be a niche theater experience and $100 to $150 tickets.
It explains why Disney (DIS) opened the bank vault to make "The Lone Ranger" and was dealt a vicious blow when it tanked at the U.S. box office. It also explains why Warner Brothers (TWX) basically starved Legendary Pictures and director Guillermo Del Toro's giant robot and monster movie "Pacific Rim" and allowed it to be eaten alive by a "Star Trek" sequel here in the U.S.
However, the monster battle with the big $190 million budget still made more than $100 million domestically -- finishing just outside the Top 20, but ahead of "Die Hard," "Smurfs," "Red" and "Percy Jackson" sequels -- and raked in $300 million abroad. That made a sequel not only likely, but perhaps imminent.
With China already considering many U.S. sequels and remakes too dumb for its moviegoing public and U.S. audiences rewarding relatively small films, including "Spring Breakers," "Mama" and "The Purge" with big profits, moviegoers are maintaining a market for original films. It's not their fault that big studios have grown too lazy, uninspired and cynical to meet customers where they're at.
DATA PROVIDERS
Copyright © 2014 Microsoft. All rights reserved.
Fundamental company data and historical chart data provided by Morningstar Inc. Real-time index quotes and delayed quotes supplied by Morningstar Inc. Quotes delayed by up to 15 minutes, except where indicated otherwise. Fund summary, fund performance and dividend data provided by Morningstar Inc. Analyst recommendations provided by Zacks Investment Research. StockScouter data provided by Verus Analytics. IPO data provided by Hoover's Inc. Index membership data provided by Morningstar Inc.
MARKET UPDATE
[BRIEFING.COM] Equity indices remain near their flat lines as heavily-weighted sectors continue trading in mixed fashion.

At this juncture, the industrial sector (-0.6%) is the weakest performer among cyclical groups with defense contractors pressuring the space. The PHLX Defense Index is lower by 1.1% with just about every component trading lower. Including today's decline, the Defense Index is now down 2.4% for the week and off 0.7% so far in September. On the upside, General ... More
More Market News