Redbox milestone: 3 billion movies rented
The company is celebrating, but analysts worry about its ability to diversify as the DVD market shrinks.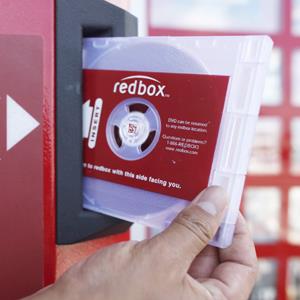 Here's an unusual milestone for a company: 3 billion transactions with the public. Redbox, the market-leading movie rental service, marked its 3 billionth movie rental last month when someone in Littleton, Colo., took out a DVD copy of the Halle Berry movie "The Call."
Redbox is a subsidiary of Outerwall, Inc. (OUTR), which changed its name from Coinstar in June.
Redbox celebrated its 3 billionth rental by offering Thursday-only promotional codes on its Facebook (FB) site for free rental deals. The company had a similar promotion in March of last year, when it reached the 2 billion rental mark. But even as Redbox grows, there are concerns by industry analysts that DVD market might be dying faster than expected.
"In the wake of Blockbusters closing down," L.A. Biz recently noted, "Redbox has become the de facto rental spot in most neighborhoods for DVDs." Redbox launched in 2002 and currently has about 43,000 kiosks at 36,000 locations nationwide.
The company's disc rentals grew to more than 50% of the market for the first time recently and its rental rate rose 3.7% in the second quarter from the previous year -- helped in part by a jump in Blu-ray disc and video-game rentals, as well as the installation of tens of thousands of new kiosks that hold more discs.

But Redbox's future is not necessarily rosy, even as it widens its lead over Netflix (NFLX) in the DVD rental business. Outerwall's second-quarter results, released last week, disappointed investors with lower-than-anticipat​ed sales figures.
Redbox, says Motley Fool contributing writer Demitrios Kalogeropoulos, is now trying to reduce its dependency on the shrinking DVD rental industry -- as more people access video via online streaming -- with long-term plans to diversify.

"It's getting into things like more automated retailing, like the coffee kiosks called Rubi that it's expanding into," he said. "It's also trying to expand into the streaming market a bit, with its joint venture with Verizon (VZ) called RedBox Instant. So long-term, the company may be able to diversify out of this shrinking DVD business. However, that isn't happening any time soon."

DVD will go the way of the dinosaur very soon. It really is a shame. Older people or those who do wish do join the information age will be left out in the cold which is real shame.

God help us all when everything is online and something happens to the grid. We'll be thrown into the dark ages.



I still prefer the local video store as first choice, primarily because they still carry a wide selection, but also because their rates are usually much cheaper than streaming/on-demand services. However, those stores are tending to close up as well.  Closest streaming match for content is Netflix, and they are severely limited in their streaming selections. Plus, I really don't want another monthly subscription, I'd rather pay a small price for a movie I want to see.  This is why Redbox still works just fine for me when I am interested in a recent release.  For Netflix's subscription model to work for me, I'd have to watch 2 movies every weekend to break even (at Redbox's rates).  Sorry, but I just don't watch that many movies a month.  I have other things to do.
Are you sure you want to delete this comment?
DATA PROVIDERS
Copyright © 2014 Microsoft. All rights reserved.
Fundamental company data and historical chart data provided by Morningstar Inc. Real-time index quotes and delayed quotes supplied by Morningstar Inc. Quotes delayed by up to 15 minutes, except where indicated otherwise. Fund summary, fund performance and dividend data provided by Morningstar Inc. Analyst recommendations provided by Zacks Investment Research. StockScouter data provided by Verus Analytics. IPO data provided by Hoover's Inc. Index membership data provided by Morningstar Inc.
MARKET UPDATE
[BRIEFING.COM] The major averages ended the midweek session with slim gains after showing some intraday volatility in reaction to the release of the latest policy directive from the Federal Open Market Committee. The S&P 500 added 0.1%, while the relative strength among small caps sent the Russell 2000 higher by 0.3%.

Equities spent the first half of the session near their flat lines as participants stuck to the sidelines ahead of the FOMC statement, which conveyed no changes to the ... More
More Market News