Restaurant owner pays price for shedding racist name
Joe Groh saw business dive after renaming the former Chink's Steaks. So diners flocked to restaurant this weekend to show support.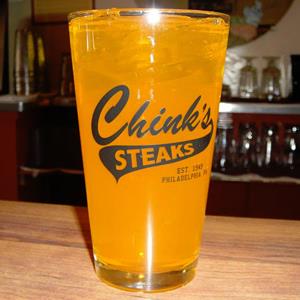 When word got out that Philadelphia cheesesteak shop owner Joe Groh had sustained huge losses after shedding the racist name his business inherited, local blogger
Joel Mathis
called on people to come to Groh's place to show their support. The effort at the former Chink's Steaks was a success.
According to Kylie Flett, Groh's spokeswoman, sales were up 35% on Saturday compared with the business he usually sees. Between 11 a.m. to 2 p.m., 90 people showed up at what has been known as
Joe's Steaks + Soda Shop
since April 1. The restaurant in Philadelphia's Wissinoming neighborhood holds about 30.
About 90% of the people who came to the "eat-in" were newcomers. Some people called the restaurant from out of state and ordered rounds of milkshakes for the diners. The reaction heartened Groh, 53, who has worked at the shop for 35 years and bought it from the widow of the original owner Samuel "Chink" Sherman a decade ago. Sherman was called "Chink" because of his oval eyes that people thought made him look Asian.
"The tables were full at Joe's for several hours, and the vibe was great -- people sitting, talking, enjoying their food," says Mathis in an email to moneyNow. "Way more fun than your run-of-the-mill political rally." 
Groh's decision to shed the shop's racist moniker, though, has cost him dearly. Revenue at the shop plunged 10% in June and 15% in July, partly because some people in the neighborhood felt that Groh caved into the forces of political correctness. Losses of that magnitude aren't sustainable for any small business owner.
"He was feeling pretty down," says Flett, adding that the shop is his family's only source of income. "You would have thought that he had changed the name to 'Chink's' and not from it."
In fact, a petition circulated urging Groh not to change the name attracted 10,000 signatures. Vandals have painted the old name on the business twice. The name also made it difficult for him to expand his business into other locations.
The Philadelphia Inquirer
came to Groh's support, saying in an editorial: "If some antisocial vanguard is punishing him out of a desire to stop time and progress just so they can continue to eat sandwiches in a place named after a racial insult, that's unfortunate. As for the rest of us, let's eat at Joe's."
For his part, Groh certainly wasn't trying to hurt anyone's feelings. Nonetheless, he is standing his ground.
"I am Joe," he recently told the Stu Bykofsky of the
Philadelphia Daily News.
"It's 2013. It was time to do it."

--Follow Jonathan Berr on Twitter @jdberr.
DATA PROVIDERS
Copyright © 2014 Microsoft. All rights reserved.
Fundamental company data and historical chart data provided by Morningstar Inc. Real-time index quotes and delayed quotes supplied by Morningstar Inc. Quotes delayed by up to 15 minutes, except where indicated otherwise. Fund summary, fund performance and dividend data provided by Morningstar Inc. Analyst recommendations provided by Zacks Investment Research. StockScouter data provided by Verus Analytics. IPO data provided by Hoover's Inc. Index membership data provided by Morningstar Inc.
MARKET UPDATE
[BRIEFING.COM] S&P futures vs fair value: -6.30. Nasdaq futures vs fair value: -14.80. U.S. equity futures trade hover near their pre-market lows amid cautious action overseas. The S&P 500 futures hover six points below fair value, which puts the benchmark index on track to continue its retreat after losing 0.8% yesterday.

Overnight, markets in Asia traded in mixed fashion, but sentiment worsened after the start of the European session, where all the key indices hold losses ... More
More Market News