Road to redemption? Eliot Spitzer runs again
The former governor's many enemies aren't losing any sleep over his campaign for city comptroller just yet, however.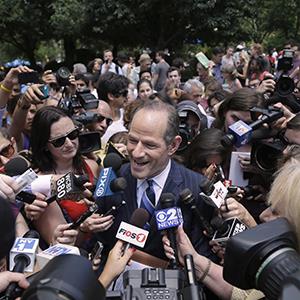 When Eliot Spitzer was forced to resign as New York's governor in 2008, his many enemies on Wall Street were overjoyed that a man who repeatedly lectured them on ethics was brought down for patronizing prostitutes. They probably aren't worrying too much about his attempted comeback -- at least not yet.
Spitzer stunned the New York political establishment recently when he announced plans to run for New York City Comptroller, basically the city's chief financial officer whose duties include managing the city's pension plans.  
According to media reports, Spitzer has visions of transforming the low-profile position into a bully pulpit to rail against the evils of corporate America. He appears to have been inspired by another improbable political quest -- the campaign for mayor of New York by disgraced former Congressman Anthony Weiner. 
One flaw in Spitzer's plan is that he didn't give himself much time to get on the ballot. 
According to
The New York Times
, he has until Thursday to collect 3,750 valid signatures supporting his candidacy. To call that a daunting task, even considering Spitzer's considerable net worth, would be an understatement.
"On Monday, the campaign posted an ad on Craigslist and other job sites, offering to pay canvassers $12 an hour, a standard rate," the paper says. "By Tuesday, the campaign was reportedly willing to pay $800 a day. On Wednesday night, the Spitzer campaign plans to hold a 'petitioning party' at a Manhattan restaurant."
If he manages to get on the ballot, New York's tabloids are sure not to allow readers to forget about Spitzer's misdeeds for one second. Former madam Kristin Davis, who supplied "companions" to the former governor, told
CNBC
that she would run against him. She is understandably bitter because she spent a year in jail while Spitzer was "punished" with a low-rated cable television show.
Spitzer is trying to convince New Yorkers that he is a changed man. During a recent appearance on MSNBC's "Morning Joe," he welled up with tears, showing more emotion than he had ever previously allowed in public. Some New Yorkers appear to be willing to give him a second chance, while others haven't forgiven him for his misdeeds.
One heckler was quoted by
The New York Post
as saying: "You betrayed your constituents, your family and your wife. You betrayed everybody."
Some Spitzer detractors are noting that he is releasing a new book, "Protecting Capitalism: Case by Case," to coincide with the campaign. Whether the increased media attention will generate more sales is hard to say.
--Follow Jonathan Berr on Twitter @jdberr.
DATA PROVIDERS
Copyright © 2014 Microsoft. All rights reserved.
Fundamental company data and historical chart data provided by Morningstar Inc. Real-time index quotes and delayed quotes supplied by Morningstar Inc. Quotes delayed by up to 15 minutes, except where indicated otherwise. Fund summary, fund performance and dividend data provided by Morningstar Inc. Analyst recommendations provided by Zacks Investment Research. StockScouter data provided by Verus Analytics. IPO data provided by Hoover's Inc. Index membership data provided by Morningstar Inc.
MARKET UPDATE
[BRIEFING.COM] Recent action saw the key indices inch to fresh lows for the session. Including today's decline of 0.8%, the S&P 500 is lower by 0.5% so far in September. Despite the loss for the month, the benchmark index has fared a bit better than its higher-beta peers. On that note, the Nasdaq has given up 1.3% so far this month, while the Russell 2000 is down 3.7% for the month. Elsewhere, the price-weighted Dow (-0.5%) trades ahead of the broader market today and is up 0.6% for the ... More
More Market News