Rolling Stone's Boston bomber cover is backfiring
The magazine's photo depicting Dzhokhar Tsarnaev as a heartthrob may lead to a sales decline amid calls for a boycott.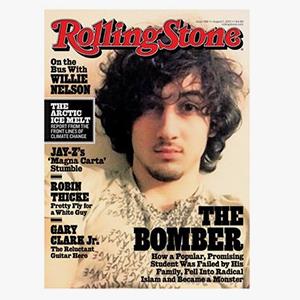 Updated at 1:49 p.m. ET.
Magazine editors look for cover images that will startle and fascinate readers, prompting grocery store shoppers to add a copy to their check-out hauls.

But Rolling Stone's latest cover is striking many people as simply offensive, leading to mounting calls for readers to boycott the issue. The problem? The publication is depicting alleged Boston Marathon bomber Dzhokhar Tsarnaev as a heartthrob, devoting the cover to a photo of a baby-faced, tousled-haired young man with dreamy eyes. 
Adding to the furor, the cover copy hints at a sympathetic view of the bomber, promising readers to reveal how "a popular, promising student was failed by his family, fell into radical Islam, and became a monster."
Twitter users are urging people to not only boycott the magazine but to also skip supporting the issue's advertisers. One Twitter user wrote, "Boycott Rolling Stone Magazine and all their advertisers. No reason to legitimize a mass murderer." 
The furor has prompted CVS (CVS) and New England-based Tedeschi food stores to ban the magazine from their shelves, Boston Magazine reported on Wednesday. CVS said in a statement, "We believe this is the right decision out of respect for the victims of the attack and their loved ones." Tedeschi wrote on its Facebook page, "Music and terrorism don't mix."
For Rolling Stone, a boycott would most likely be felt first in its single-copy sales or in purchases of the magazine at newsstands and stores. As of June 2012, Rolling Stone relied on stores to sell about 75,000 copies of each issue (26 a year), according to an Audit Bureau of Circulations statement. The publication is owned by Wenner Media. 
Rolling Stone relies on subscriptions for the bulk of its sales, 1.34 million of them as of June 2012. While a respectable number, it's smaller than those of other celebrity-focused publications such as Time Warner's (TWX) People and Entertainment Weekly. 
The real danger for the magazine will be whether the furor prompts longtime subscribers to cancel their accounts. Some outraged readers are urging people to take that step, and the hashtag #boycottrollingstone​ is gathering momentum. Meanwhile, the boycott has time to grow, because the issue hits newsstands on Aug. 3, according to CNN. 
As for the story itself, Rolling Stone is vowing a "deeply reported account of the life and times of Boston bomber Jahar (sic) Tsarnaev." 
Among the revelations it promises are that Tsarnaev "played down the fact that he was a Muslim" at his high school and that he "shared few details of his troubled home life with even his closest friends."
But based on the angry reaction, it's not likely the teasers will convince folks to actually get beyond the cover. 
Follow Aimee Picchi on Twitter at @aimeepicchi.
DATA PROVIDERS
Copyright © 2014 Microsoft. All rights reserved.
Fundamental company data and historical chart data provided by Morningstar Inc. Real-time index quotes and delayed quotes supplied by Morningstar Inc. Quotes delayed by up to 15 minutes, except where indicated otherwise. Fund summary, fund performance and dividend data provided by Morningstar Inc. Analyst recommendations provided by Zacks Investment Research. StockScouter data provided by Verus Analytics. IPO data provided by Hoover's Inc. Index membership data provided by Morningstar Inc.
MARKET UPDATE
[BRIEFING.COM] The S&P 500 (-0.5%) remains pressured as every uptick has been met with selling activity. This morning, the health care sector (-0.6%) was an early source of weakness in reaction to concerns about the impact of new rules on tax inversion deals.

Over the past 30 minutes, Bloomberg reported that Pfizer (PFE 30.01, -0.17) has approached Actavis (ACT 242.88, +7.02) about a potential acquisition. Actavis, which traded with a slim loss ahead of the reports, has ... More
More Market News