See 1 cafe's response to Zimmerman protest
The Awaken Cafe posted a message after someone shattered its window, broadening the conversation while asserting a local business' place in it.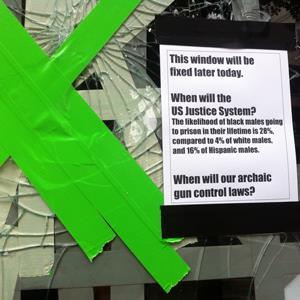 When the verdict came down acquitting George Zimmerman in the shooting of Trayvon Martin, protesters in downtown Oakland, Calif., shattered the front window of
Awaken Cafe
right in the middle of a band's set.
While startled and somewhat terrified, customers just moved away from the window and the band played on. It wasn't until Monday, when the press descended on Oakland, that the story took a turn.
Cafe owner Cortt Dunlap had grown accustomed to the volley of questions, as his restaurant and music venue's location in the center of City Plaza gave it a close look at Occupy protests and a stream of other marches and demonstrations in recent years. This time, however, Dunlap got the sense that he and his freshly broken window were more of a prop than a pull quote.
"Journalists kept popping in, asking for a statement and asking me to stand in front of the window and they seemed to be following one of two stories: 1. How terrible is it for a small business to have its windows broken and 2. How terrible of a job do you think the Oakland Police Department did?" Dunlap told MoneyNOW.

"I wasn't interested in either of those narratives when film crew after film crew was coming by to take photos of the window," he added, "so it occurred to me that it may be an opportunity to redirect the conversation to what it should be about."
In a roughly five-minute span, Dunlap did a search on U.S. conviction rates by race, pulled the information off of Wikipedia and incorporated it into an message he posted in the center of his shattered window pane:
This window will be fixed later today. When will the US justice system? The likelihood of black males going to prison in their lifetimes is 28%, compared to 4% of white males and 16% of Hispanic males. When will our archaic gun control laws?
Dunlap cedes that he wishes he took some time to polish the grammar and syntax, but the message was received. The 2,700 messages received through the cafe's website and the back-and-forth conversation on its Facebook page had broadened the discussion beyond Awaken's window. While some of Dunlap's online critics say his response amounts to tacit agreement with the actions that led to his window being smashed, he views the message as a retort, not applause.
"It's not that I condone having my windows broken, but I think the more attention we give to that, the more fuel we throw on the fire," Dunlap says. "It's a distraction and I wonder if all the attention just emboldens those who would do harm to others and window smashers."
It's also an extension of Dunlap's belief that local businesses such as his need to have a vocal, ongoing relationship with the community they serve. During the Occupy protests, for example, Dunlap says the shop stayed open late to allow protesters and those covering the protests to eat, use the bathrooms, charge phones and use the cafe's Wi-Fi to file stories.

When neighbors, customers and others have asked how they can donate to help fix his broken window, Dunlap asked them to pay it forward to the Ella Baker Center for Human Rights in keeping with his original message. After all, he says, his landlord is the city of Oakland and the cost of his cafe's broken window falls on everyone in town.
As Dunlap learned during the Occupy protest, a segment of that movement took an anti-gentrification stance against businesses that included his own. He suggests that such sentiment may have played a role in shattering his window, but says it's also made him more committed to engaging the community around him and becoming a vital part of it.
"When money is staying in the community and the business owner is standing across the counter from you and knows who you are, people tend to be more accountable to each other," he says.
DATA PROVIDERS
Copyright © 2014 Microsoft. All rights reserved.
Fundamental company data and historical chart data provided by Morningstar Inc. Real-time index quotes and delayed quotes supplied by Morningstar Inc. Quotes delayed by up to 15 minutes, except where indicated otherwise. Fund summary, fund performance and dividend data provided by Morningstar Inc. Analyst recommendations provided by Zacks Investment Research. StockScouter data provided by Verus Analytics. IPO data provided by Hoover's Inc. Index membership data provided by Morningstar Inc.
MARKET UPDATE
[BRIEFING.COM] The stock market finished an upbeat week on a mixed note. The S&P 500 shed less than a point, ending the week higher by 1.3%, while the Dow Jones Industrial Average (+0.1%) cemented a 1.7% advance for the week. High-beta names underperformed, which weighed on the Nasdaq Composite (-0.3%) and the Russell 2000 (-1.3%).

Equity indices displayed strength in the early going with the S&P 500 tagging the 2,019 level during the opening 30 minutes of the action. However, ... More
More Market News