Seniors' support for the GOP is sliding
This key donor group is increasingly disillusioned with Republicans, and that could hurt fundraising efforts.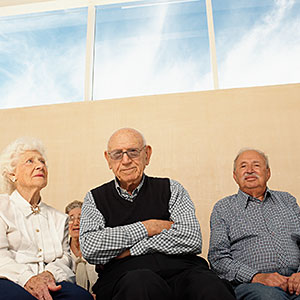 A sea change is apparently going on in the gray-haired set, with many turning sharply against the Republican Party, the Carville-Greenberg Memo reports.

That may spell trouble for the GOP's coffers, given that AARP cardholders have been reliable supporters and are more active donors than younger voters. But last month, just 28% of seniors said they view Republicans favorably, down from 43% in 2011, wrote Erica Seifert, a senior associate at Greenberg Quinlan Rosner Research. 
That may have big implications on the budgets of GOP candidates. After all, 27% of seniors say they've made a political contribution, more than any other age group, according to the Pew Internet & American Life Project. The shift started in summer 2011, when Paul Ryan, R-Wis., touted a plan to privatize Medicare, Seifert wrote. 
"Since then, the Republican Party has come to be defined by much more than its desire to dismantle Medicare. To voters from the center right to the far left, the GOP is now defined by resistance, intolerance, intransigence, and economics that would make even the Robber Barons blush," she noted. (Greenberg Quinlan Rosner Research includes Democratic pollster Stan Greenberg as its chief executive.)
More than half of seniors now say the Republican Party is too extreme on issues such as gay rights and providing aid to the poor, the poll found. 
That should have Republicans worried as they near the 2014 midterm elections. 
"I don't think any Republican pollster who's looking at the numbers is sanguine about the state of the Republican brand at this point," Republican pollster Whit Ayres told The Atlantic. "You are going to see the impact of the damaged brand in every demographic group."
Still, more seniors say they'll vote Republican than Democrat, at 46% to 41%. But that's a smaller gap than in 2010, when 59% of seniors voted for the GOP and more than 33% backed the Democrats. 
In the 2011-12 election cycle, the GOP enjoyed a slight fundraising edge, counting more than 550,000 individual donors to the Democrats' 513,000 donors, according to OpenSecrets.org.
If seniors continue to turn against the GOP, those dollars might stop flowing toward Republican candidates. 
Follow Aimee Picchi on Twitter at @aimeepicchi. 
DATA PROVIDERS
Copyright © 2014 Microsoft. All rights reserved.
Fundamental company data and historical chart data provided by Morningstar Inc. Real-time index quotes and delayed quotes supplied by Morningstar Inc. Quotes delayed by up to 15 minutes, except where indicated otherwise. Fund summary, fund performance and dividend data provided by Morningstar Inc. Analyst recommendations provided by Zacks Investment Research. StockScouter data provided by Verus Analytics. IPO data provided by Hoover's Inc. Index membership data provided by Morningstar Inc.
MARKET UPDATE
[BRIEFING.COM] The stock market welcomed the new trading week with a mixed session that saw relative strength among large-cap stocks, while high-beta names underperformed. The Dow Jones Industrial Average (+0.3%) and S&P 500 (-0.1%) finished near their flat lines, while the Nasdaq Composite and Russell 2000 both lost 1.1%.

Equities began the day on a cautious note amid continued concerns regarding the strength of the global economy. Over the weekend, China reported its first decline ... More
More Market News