Should Deion Sanders get workers' comp?
The Hall of Fame cornerback who criticized concussion lawsuits from his NFL Network pulpit has been deemed 86% disabled by doctors.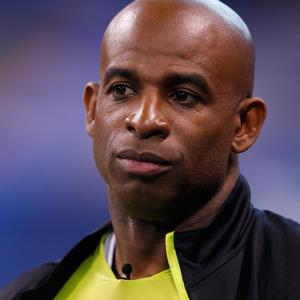 Why would a former NFL star and current league analyst trash-talk the spate of concussion lawsuits the league is facing on screen, only to file a workers' compensation claim behind the scenes? In his own words, it
must be the money
.
In his prime, "Neon" Deion "Prime Time" Sanders juggled his NFL career with a stint in Major League Baseball, made cameos in M.C. Hammer videos and served as the inspiration for Jaime Foxx's Willie Beamen character in the 1999 film "Any Given Sunday."

On Thursday, The Los Angeles Times revealed that Sanders filed a workers' compensation claim in California in 2010, claiming he suffered head trauma and other injuries while playing with the Dallas Cowboys. During the pregame show before February's Super Bowl, however, Sanders had different thoughts about such claims as an NFL Network analyst.
"The game is a safe game," the Hall of Fame cornerback said. "I don't buy all these guys coming back with these concussions. I'm not buying all that. Half these guys are trying to make money off the deal."
Given how Sanders' compensation case is proceeding, it's likely he considers himself in the other half of that equation. In November 2010, Sanders was deemed 86% disabled by the Division of Workers' Compensation. The four doctors who examined Sanders diagnosed more than a dozen medical conditions, including cognitive impairment, behavioral/emotional​ disorder, arthritis and "arousal disorder" -- which is a sleep disorder that isn't nearly as humorous as it sounds.
Sanders and his agent didn't respond to requests for comment, but considering Sanders is still employed by the NFL, it may be in his best interest to toe the company line in public. The league is currently pushing legislation in California that would halt workers' compensation claims by professional athletes. In California alone, more than 4,000 former NFL players have filed workers' compensation claims that could cost the NFL as much as $1 billion to resolve. Many of those claims allege brain trauma as a result of repeated hits, which is an extremely touchy subject in the NFL given the role brain trauma played in the suicides of former NFL players Dave Duerson, Ray Easterling and Junior Seau.
Should players be entitled to such claims, given the risk inherent in their jobs? Even the NFL has tacitly admitted that might be the case. Last week, the league agreed to pay $765 million to settle federal lawsuits filed by more than 4,500 former players and their families -- including 2,300 in California. Those suits alleged that the athletes were not properly informed of the risks of brain injury in professional football.
CBSSports.com writer Pete Prisco alleged last month that players didn't deserve the settlement and should have just dealt with the consequences of their chosen profession. His argument was completely eviscerated line-by-line not only by recently returned ESPN analyst Keith Olbermann, but by the wounded and dementia-addled former NFL players including former Chicago Bears quarterback Jim McMahon and ex-Baltimore Ravens running back Jamal Lewis, who speak for themselves in his retort.
If Sanders' on-screen words sound a bit hypocritical by comparison, just know that he's not the only former player at the NFL Network treading lightly in public while suffering in private. Four other former players who now serve as on-air talent for NFL Network -- Brian Baldinger, Bucky Brooks, Willie McGinest and Darren Sharper -- have filed compensation claims that allege head or brain trauma. NFL Network analysts Marshall Faulk and Michael Irvin, meanwhile, filed similar claims and received cash settlements from their former teams in 2011.
The NFL generated $9.5 billion in revenue last season, with nearly half coming from television contracts with CBS (CBS), NBC (CMCSA), Fox (FOXA), ABC (DIS), ESPN (which backed out of a Frontline documentary about concussions in the NFL) and DirecTV (DTV). If it doesn't want to pay workers' compensation claims, it certainly can't use poverty as an excuse. It also can't have its on-air staff declaring that all is well with the league's approach to concussions and head trauma when their doctors say otherwise.

These guys are making MAJOR money...can't they put some aside for this kind of stuff?
So we are going to pay some ridiculous annual workmans comp based on his multi milion dollar salary?
I see every player going out on WC of some sort when their big contracts run out.
WOW...fund will be bankrupt VRY soon if this precedent is set.
Next he/they will want food stamps?

Why don't we ban these ultra-contact sports?
Everyone knows players are getting hurt...yet we allow them to continue.
If I go to a high risk event, they usually have me sign a waiver. Maybe these guys need to do this...since they KNOW there is a SUPER high risk of injuries.
Guess MMA fighters are gonna go out on WC, too...wrestlers...ro​ller derby...skateboarder​s...
No wonder the system does not work.
I don't care who you are, how much you make.  This man played in California and paid taxes on the games he played here.   It is still a job and if you get hurt on the job, that is what workers' compensation insurance is for whether you KNOW your going to get hurt or not.  That is the law, and regardless of his position now or the money he has or doesn't have is irrelevant.

Concussions are a serious issue in sports like football. Often time at the high school and college level coaches will knowingly play people with concussions even though it is against the rules. A solution would be to have an insurance pool set up and paid for by the team owners so people with concussions can get the medical care they need without paying for it themselves. 
Are you sure you want to delete this comment?
DATA PROVIDERS
Copyright © 2014 Microsoft. All rights reserved.
Fundamental company data and historical chart data provided by Morningstar Inc. Real-time index quotes and delayed quotes supplied by Morningstar Inc. Quotes delayed by up to 15 minutes, except where indicated otherwise. Fund summary, fund performance and dividend data provided by Morningstar Inc. Analyst recommendations provided by Zacks Investment Research. StockScouter data provided by Verus Analytics. IPO data provided by Hoover's Inc. Index membership data provided by Morningstar Inc.
MARKET UPDATE
[BRIEFING.COM] The stock market began the new trading week on the defensive note with small-cap stocks pacing the retreat. The Russell 2000 (-1.4%) and Nasdaq Composite (-1.1%) displayed relative weakness, while the S&P 500 lost 0.8% with all ten sectors ending in the red.

Global equities began showing some cracks overnight after China's Finance Minister Lou Jiwei poured cold water on hopes for new stimulus measures. Specifically, Mr. Lou said the government has no plans to change ... More
More Market News