Should kids get their own flights?
One airline is suggesting certain departures for families with small children, and will offer picture books and toys to keep the tots busy.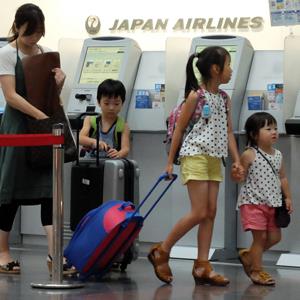 Screaming toddlers and airline flights are not a good combination, and one carrier is taking steps to address the situation.
Japan Airlines
has set aside two regular flights from Tokyo to Honolulu as the "most suitable" ones for preschool-age children. It's not requiring that families with children take these flights, nor is it keeping childless adults from them.
But starting Oct. 1, the airline will provide more picture books and toys on the two flights -- JL785 and JL786 -- according to a
press release.

The idea is that by encouraging families to take those two flights, Japan Airlines' other flights between Tokyo and Honolulu may be quieter and more pleasant for other passengers.
It's a smart approach to a problem airline passengers have complained about for decades. One solution is to reserve specific rows on a plane for families with small children, but that might create even more chaos.
By dedicating an entire flight to children, Japan Airlines can still give parents just about any seat on the plane. And children can let loose with all the seat kicking, smelly diapers and tantrums they want.
Japan Airlines is also introducing a women-only area on all flights to Honolulu. Four seats in the back of the economy section will be reserved for women to apply make-up or breastfeed babies. That's quite an investment, since airlines normally want every seat filled. By holding four seats open for women during flight, Japan Airlines is hoping that the policy will bring in enough new passengers to make up for the lost seat revenue.

Now, if we could get families into their own check-in & boarding
Most women are discreet when breastfeeding, but many are not, so this women only area in the back is a good idea, plus will unofficially reserve more restrooms for the women. I doubt many men will venture to the back, in fear of being thought of as pervs.

Interesting idea.  Here's a note to parents with babies and toddlers.  Air pressure in airplanes can cause ear aches.  These little guys don't know how clear their ears.  I found that a very small dose of children approved antihistamine helps open the ears and also makes them calm down.  No I don't recommend drugs but this does help.
Are you sure you want to delete this comment?
DATA PROVIDERS
Copyright © 2014 Microsoft. All rights reserved.
Fundamental company data and historical chart data provided by Morningstar Inc. Real-time index quotes and delayed quotes supplied by Morningstar Inc. Quotes delayed by up to 15 minutes, except where indicated otherwise. Fund summary, fund performance and dividend data provided by Morningstar Inc. Analyst recommendations provided by Zacks Investment Research. StockScouter data provided by Verus Analytics. IPO data provided by Hoover's Inc. Index membership data provided by Morningstar Inc.
MARKET UPDATE
[BRIEFING.COM] The stock market finished the Tuesday session on the defensive after spending the entire day in a steady retreat. The S&P 500 (-0.6%) posted its third consecutive decline, while the small-cap Russell 2000 (-0.9%) slipped behind the broader market during afternoon action.

Equity indices were pressured from the start following some overnight developments that weighed on sentiment. The market tried to overcome the early weakness, but could not stage a sustained rebound, ... More
More Market News