Skipped the tax bill? No driver's license
New York wants people who owe the state money off the road. That's actually lenient compared to what scofflaws face in other states.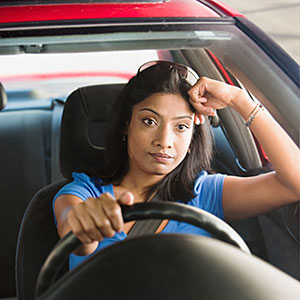 Feel that taxes are a real drag on your existence and an affront to your recently formed, financially convenient libertarian beliefs? That's fine: Just hand over your driver's license, stop wearing out the roads those taxes pay for and we'll call it even.
New York has enough problems fixing potholes in its highly populated state without its citizens stiffing it when the check for those repairs comes in. To make sure it gets every dollar it can, Gov. Andrew Cuomo is implementing a driver's license suspension program aimed at those with more than $10,000 in back taxes and no more opportunities to appeal.
That means about 16,000 New Yorkers would be subject to a penalty that's already in place in Massachusetts, California and Louisiana. New York's punishment is fairly lenient compared to that of its bayou buddies, who only require $1,000 in back taxes to take a Louisiana resident's license away.
Even actual libertarians think it's a pretty good idea. Self-described libertarian David Brunori, deputy publisher of Tax Analysts, tells CNNMoney it's a fairly ingenuous punishment if all avenues of appeal have been exhausted.
"Holding your feet to the fire is not necessarily crazy," he says. "Getting a license is a privilege. It's not messing around with a constitutional right."
It also allows tax scofflaws to make life a bit easier on themselves. New York will let them work out a payment plan if they can't pay everything in full. Those whose licenses are suspended may apply for a restricted license that would let them drive to and from work only.
It saves the state the bother of garnishing wages, imposing tax liens and seizing bank accounts, moves that are more difficult to enforce and are a legal minefield for the states involved. Tax dodgers, meanwhile, are spared the public shame of California's list of the Top 500 tax delinquents, whose names the state publishes twice a year.
Though the cutoff for that list is a whopping $100,000 in back taxes, it gives California the right to pull your driver's and professional licenses and prohibits state agencies from conducting business with you until the debts are paid. By that measure, missing a New York commute for a little while doesn't seem so bad.
DATA PROVIDERS
Copyright © 2014 Microsoft. All rights reserved.
Fundamental company data and historical chart data provided by Morningstar Inc. Real-time index quotes and delayed quotes supplied by Morningstar Inc. Quotes delayed by up to 15 minutes, except where indicated otherwise. Fund summary, fund performance and dividend data provided by Morningstar Inc. Analyst recommendations provided by Zacks Investment Research. StockScouter data provided by Verus Analytics. IPO data provided by Hoover's Inc. Index membership data provided by Morningstar Inc.
MARKET UPDATE
[BRIEFING.COM] The stock market is doing pretty much what it was expected to do today in front of the FOMC decision (i.e. nothing). The major indices are little changed as traders wait anxiously for the Fed's latest directive and updated economic projections.

Everyone is waiting to see if the "considerable time" language is maintained in the directive after Wall Street Journal Fed watcher, Jon Hilsenrath, suggested yesterday it could be.

Mr. Hilsenrath's article ... More
More Market News