Sliced bread turns 85
We take it for granted now, but getting this product ready for commercial sales was no easy task.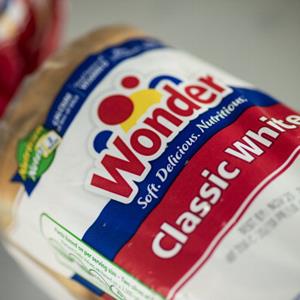 Bread has been around for ages, but commercially sliced and packaged bread doesn't even have a century under its belt yet.
Sliced bread, a phenomenon so beloved that it spawned its own "greatest thing" catchphrase, turned 85 years old this week, The Atlantic
notes
. The first wrapped package of sliced bread was sold on July 7, 1928, by the
Chillicothe Baking Co.
in Missouri.
With what seems like 5,000 kinds of sliced bread on grocery shelves these days, it's hard to imagine a time when bread was sold only whole and freshly made. It took quite a while to develop a machine that could slice an entire loaf of bread at once and package it for public sale.
A jeweler from Missouri named Otto Frederick Rohwedder invented such a machine in 1912, according to The Atlantic, but his machine was destroyed in a fire. He filed a patent for an improved machine 15 years later. It didn't produce the prettiest sliced bread, however, and other inventors would tinker with the design.
A St. Louis baker bought Rohwedder's machine and tweaked it so it would slice loaves in cardboard trays and wrap them in wax paper, Don Voorhees writes in his book "Why do Donuts Have Holes? Fascinating Facts About What We Eat and Drink." Chillicothe, named for its hometown in Missouri, was the first commercial bakery to give the machine a shot.
But sliced bread didn't really take off nationally until -- you guessed it -- Wonder Bread came along. Continental Baking began slicing and shipping Wonder Bread in the 1930s, although consumers were skeptical that this sliced bread would not dry out,
according to
the Where Food Comes From site. No one was praising the "greatest thing since sliced bread" just yet.
World War II brought all bread slicing to a halt because of a steel shortage. The bread slicers returned in 1945, however, and the pre-cut Wonder Bread took off.
By the way, Wonder Bread took a huge bite out of two diseases, beriberi and pellagra, that had plagued the country until then. That's because Continental Baking began enriching the bread with vitamins and minerals in the 1940s. The bread's impact on those two diseases is sometimes called the "quiet miracle," according to Where Food Comes From.
DATA PROVIDERS
Copyright © 2014 Microsoft. All rights reserved.
Fundamental company data and historical chart data provided by Morningstar Inc. Real-time index quotes and delayed quotes supplied by Morningstar Inc. Quotes delayed by up to 15 minutes, except where indicated otherwise. Fund summary, fund performance and dividend data provided by Morningstar Inc. Analyst recommendations provided by Zacks Investment Research. StockScouter data provided by Verus Analytics. IPO data provided by Hoover's Inc. Index membership data provided by Morningstar Inc.
MARKET UPDATE
[BRIEFING.COM] The stock market finished the Thursday session on a higher note with the S&P 500 climbing 0.5%. The benchmark index registered an early high within the first 90 minutes and inched to a new session best during the final hour of the action.

Equities rallied out of the gate with the financial sector (+1.1%) providing noteworthy support for the second day in a row. The growth-oriented sector extended its September gain to 1.9% versus a more modest uptick of 0.4% for the ... More
More Market News