Social Security turns 78
Born under FDR and expanded by LBJ, the program may be shaky in its dotage, but it's still vital to millions of Americans.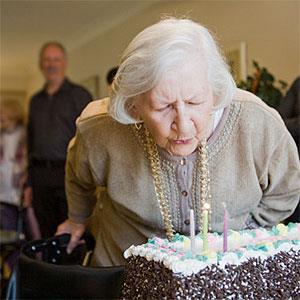 Happy 78th birthday, Social Security. Let's hope you're still around when most of us reach that age.
Social Security was born during President Franklin Delano Roosevelt's administration as a means of combating the Great Depression and nearly 50% unemployment. The first lump-sum payment of 17 cents was made to Ernest Ackerman in 1937. The first monthly Social Security check of $22.54 went to Ida May Fuller in January 1940.
This year, about 58 million Americans will receive $821 billion in Social Security benefits. The average monthly benefit for a retired worker in 2013 is $1,262. Nine out of 10 Americans age 65 and older receive Social Security benefits. And among the unmarried, 46% rely on Social Security benefits for 90% or more of their income.
With baby boomers continuing to retire in greater numbers and the current economy sputtering along, there's nearly constant fretting about the state of the great social safety net. Still, Americans of all stripes tend not to like hearing about it being cut, especially after spending years paying into it.
Last spring, seemingly the only issue that united liberals and conservatives was the Obama administration's plan to cut Medicare and Social Security benefits. While Texas Republican Gov. Rick Perry famously called Social Security a Ponzi scheme in 2011, earlier this year, Rep. Greg Walden, R-Ore., was quoted in The Hill calling the Obama plan a "shocking attack on seniors."
Thirty years ago, with bipartisan backing, President Ronald Reagan signed legislation aimed at keeping Social Security solvent. "This bill demonstrates for all time our nation's ironclad commitment to Social Security," he said. "It assures the elderly that America will always keep the promises made in troubled times a half a century ago. It assures those who are still working that they, too, have a pact with the future."
But retirement benefits are just part of the Social Security package, especially after President Lyndon Johnson's War On Poverty added Medicare and Medicaid to the mix. Disabled workers and their dependents account for 19% of the total benefits paid, while survivors benefits account for 11%.

As the Social Security Administration points out, 25% of today's 20-year-olds will become disabled before reaching age 67, and the majority have no long-term disability insurance besides their Social Security coverage. About 12% of today's 20-year-olds will die before reaching age 67, and the dependent families of the deceased workers are often eligible for survivors benefits.
The system has become so vital that just before a House Budget Committee hearing last month, Elise Gould, the director of health policy research at the Economic Policy Institute, called Social Security the nation's most effective antipoverty program.
"Without Social Security," she said on the EPI's website, "an additional 8.3% of Americans, or over 25 million more people, would fall below the (Supplemental Poverty Measure) poverty threshold."
Social Security may look a bit creaky at 78, but for many Americans, it's still strong enough to help them through tough times and provide them with a little extra after a lifetime of work.
DATA PROVIDERS
Copyright © 2014 Microsoft. All rights reserved.
Fundamental company data and historical chart data provided by Morningstar Inc. Real-time index quotes and delayed quotes supplied by Morningstar Inc. Quotes delayed by up to 15 minutes, except where indicated otherwise. Fund summary, fund performance and dividend data provided by Morningstar Inc. Analyst recommendations provided by Zacks Investment Research. StockScouter data provided by Verus Analytics. IPO data provided by Hoover's Inc. Index membership data provided by Morningstar Inc.
MARKET UPDATE
[BRIEFING.COM] S&P futures vs fair value: -5.50. Nasdaq futures vs fair value: -11.80. U.S. equity futures continue holding modest losses with the S&P 500 futures down six points below fair value.

The Dollar Index began the night in the red after gaining 0.6% last week, but a steady rally off the lows has placed the index back near its flat line for the session. The dollar is currently little changed versus the yen (109.05), while the euro (1.2844) and the pound (1.6330) ... More
More Market News