Sparkling-water fountains may break the bottled habit
The public spouts started off as an experiment in parts of the world, but have grown more popular. When will they come to the US?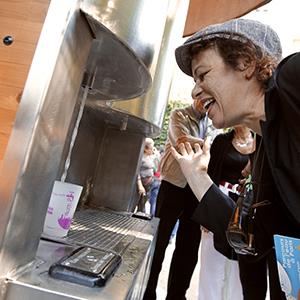 Traditional water fountains sit unused in many parts of the world, scorned by a public that now prefers the same stuff in bottles.
In an effort to get people off of their bottled-water habit, some countries have begun installing sparkling-water fountains. The devices infuse cooled tap water with carbon dioxide, and cities hope they will reduce plastic waste and renew interest in local water sources.
The French are one of the world's biggest consumers of bottled water,
reportedly
at about 40 gallons per person per year. So the publicly funded group that manages the city's water tried a sparkling-water fountain in 2010.
It worked so well that two more have debuted, and three more are planned for next year, Slate
reports
.
The problem with this kind of fountain, though, is that you need a container to drink the water from. So Paris installed a vending machine that sells reusable water flasks for 3 euros.
Italy has hundreds of these machines, and the city of Perth in Western Australia approved a three-month trial with its first one, Time Magazine
reports
. Australia charges people for the water, and uses solar power to make it cold.
Sounds like a great idea for the U.S. to test. Are you listening, Mayor Bloomberg?

Or you idiots could just drink the water that comes out of your faucet. I have a filter on my drinking water so I drink 2 gallons of water a day for pennies. I have several reusable water bottles so I am not one of morons tossing 10-15 plastic bottles a day in the trash. If I do buy a bottle of water, I buy the cheapest bottle I can & the I recycle the empty bottle.

Does no one else wonder why French people are the largest percentage market of bottled water? Clearly it's successful there because their regular municipal water supplies are not safe/bad tasting/unhygienic. Granted it's been years and years since I've been to France, but I doubt it has improved very much over the years, considering they are even more broke than they used to be then. It was always laughable to me that Perrier drove the original "gourmet water" market in the beginning, especially as it was later proved that their original spring-fed source was contaminated with benzene.
Frankly I think that in most U.S. municipalities this would NOT do well, simply because the vast majority of U.S. cities actually provide citizens with relatively safe drinking water. We aren't drinking bottled water because we have to, we're drinking it for convenience and taste. So those who are buying bottled water here in the states will continue to do so, not suddenly have an attack of eco-conscienceness and start using refillables.
The "unused" water fountains in public parks, etc. are usually not used because there is no maintenance and cleaning being done to maintain them, therefore making them unpalatable and unhygienic. If a municipality is trying to keep people interested in drinking from city water fountains, then instead of investing taxpayer dollars on fancy new water vending options, they could invest far fewer dollars and keep the ones they have already more decently maintained. And perhaps even employ a few people along the way.

There are a lot of fools who drink tap water with all the chemicals added to it.  A large percentage of cities have water that is so bad you just as well drink out of a river.  Toilet tanks in these cities are yellow or brown with stains from the water does the same to individuals as tanks.  But yet we have morons condemning bottle water drinkers.  

My toilet bowl is full of the stuff but I don't drink it.  It's the same water that comes out ot the tap.  Do you folks drink out of the toilet if it's convenient since it's the same water?  If that stuff that you drink out of the tap is so clean and pure why all the processing and added
carcinogens(chlorine​
and others) to make it safe to drink?
Are you sure you want to delete this comment?
DATA PROVIDERS
Copyright © 2014 Microsoft. All rights reserved.
Fundamental company data and historical chart data provided by Morningstar Inc. Real-time index quotes and delayed quotes supplied by Morningstar Inc. Quotes delayed by up to 15 minutes, except where indicated otherwise. Fund summary, fund performance and dividend data provided by Morningstar Inc. Analyst recommendations provided by Zacks Investment Research. StockScouter data provided by Verus Analytics. IPO data provided by Hoover's Inc. Index membership data provided by Morningstar Inc.
MARKET UPDATE
[BRIEFING.COM] The IMF expressed its concerns before the start of today's trading that "excessive risk taking may be building up" with valuations for just about every major asset class looking stretched.

As one can see from the standing of the major indices, that warning went in one of the market's ears and out the other. Actually, we're not even sure it went in one ear. The market started with a bullish bias and has maintained that bias throughout today's session.

The ... More
More Market News
TOP STOCKS
Meet Alibaba's new billionaires
Despite its size, the IPO will create just two new members of the 10-figure club from its executive ranks. A few others could net hundreds of millions.