Sports programming may finally be getting too costly
Some pay-TV providers are rejecting a Houston regional channel backed by Comcast. It may not be the last.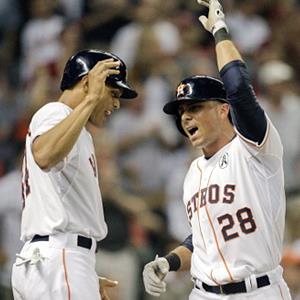 When
Comcast
(
CMCSA
) helped establish a regional sports network last year to carry the games of Major League Baseball's Houston Astros and the National Basketball Association's Houston Rockets, it thought it had a "home run" and a "slam dunk." The Philadelphia media company couldn't have been more wrong.
According to
The Wall Street Journal
, both
DirecTV
(
DTV
) and
AT&T
(
T
) have refused to carry CSN Houston, in which Comcast owns a 22% stake, saying the channel's fees are too expensive given its limited appeal with viewers. That's especially true for the Astros, a team that's one of baseball's worst and has earned the nickname "Lastros" by folks in the Houston area.
Comcast's problems in Houston, though, could be just the start of a worrisome trend.
In recent years, the costs for sports programming have increased dramatically because it's one of the few TV genres that people continue to watch live. It's also widely watched by young male viewers, which are hard for advertisers to target otherwise.
Sports channels account for 19.5% of all fees cable and satellite operators pay, and Wall Street is increasingly nervous that these expenses are rising too high, too quickly. 
For instance,
21st Century Fox
's (
FOXA
) Fox,
Walt Disney
's (
DIS)
ESPN and
Time Warner
's
(
TWX
) ESPN will double what they pay MLB on an annual basis under the $12.4 billion contract that runs from 2014 to 2021. The National Football League's deal that runs through 2022 got a 63% raise for its broadcast rights, and the NBA saw a 20% hike. Even a niche sport such as the National Hockey League was able to double its broadcast fees.
These increased costs will affect the bottom lines of many companies.
Goldman Sachs
(
GS
)
cut its rating on Disney
last month, citing rising fees for sports broadcasting rights. ESPN has been traditionally viewed as a strength for Disney, accounting for 45% of its operating profit. But now, analysts are likely to make similar downgrades on other media stocks.
Sports broadcast fee increases are also spurring renewed calls for a-la-carte pricing of cable service, in which consumers pay only for the channels they want to watch. Pay-TV providers have repeatedly argued that such a system is impractical and would lead to higher prices. In the meantime, it looks like Comcast's home run was more like a long fly-ball out.
Jonathan Berr does not own shares of the listed stocks. Follow him on Twitter @jdberr.

I got rid of my cable 5 yrs ago and put a high def ant on top of my house and i get 43 digital channels that come in as clear as any cable and my high def is better because the signal is not compressed into that signal ! And its FREE. I watch football on CBS, FOX, and night game on NBC . Hockey on NBC and CBC . For FREE.. You would be surprised what is out there for FREE T.V. .. But then Americans are stupid and will keep paying a few house payments a yr to watch T.V. LOL I have saved so much money its unreal . Even $50 a month cable bill is $600 a yr ? Do the math . Now i remember i had 120 channels and out of that i watched about 10 -12 faithfully . That's it . Think about it people DUH.. No way will i give any cable or sat TV companies my money ever. Till i can pick the channels i want screw all cable companies...

I Blame entities like ESPN and their hosts for the growing Problems of Costs. The hosts for ESPN are literally in Bed with the Players. Both live in the same circles of fantasy. They defend all actions by the players other than Murder and are the first to defend bigger and fatter contracts. So we have a Economy at Large where folks are barely getting by and we have Millionaires Sports figures saying they don't make enough to support their families. Why should us regular folks worry about people that don't give a darn about us. Everyday you hear some fool host telling everyone that you "gots" To Give the Player His Money. Well then I "gots" to cut out Cable.


If people would quit paying for cable the advertisers would force cable down our throats' for free.
I remember when MTV came out and said the income from it's cable subscribers would make it ad free. They broke that promise in less than a year. At the time I got free cable with my apartment.
Are you sure you want to delete this comment?
DATA PROVIDERS
Copyright © 2014 Microsoft. All rights reserved.
Fundamental company data and historical chart data provided by Morningstar Inc. Real-time index quotes and delayed quotes supplied by Morningstar Inc. Quotes delayed by up to 15 minutes, except where indicated otherwise. Fund summary, fund performance and dividend data provided by Morningstar Inc. Analyst recommendations provided by Zacks Investment Research. StockScouter data provided by Verus Analytics. IPO data provided by Hoover's Inc. Index membership data provided by Morningstar Inc.
MARKET UPDATE
[BRIEFING.COM] The stock market finished an upbeat week on a mixed note. The S&P 500 shed less than a point, ending the week higher by 1.3%, while the Dow Jones Industrial Average (+0.1%) cemented a 1.7% advance for the week. High-beta names underperformed, which weighed on the Nasdaq Composite (-0.3%) and the Russell 2000 (-1.3%).

Equity indices displayed strength in the early going with the S&P 500 tagging the 2,019 level during the opening 30 minutes of the action. However, ... More
More Market News