Squirrels and electricity: A shocking problem
The bushy-tailed rodents are responsible for tens of thousands of costly power outages each year.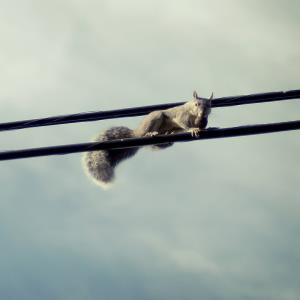 They seem cute, alright, but watch out: It appears America's squirrel population is hell-bent on plunging us humans into the dark, while wreaking havoc on the nation's infrastructure.
These furry, long-tailed rodents have been responsible for power outages for decades. Several years ago USA Today reported squirrels that electrocuted themselves by jumping onto transformers or chewing into power lines were to blame for tens of thousands of blackouts annually.
But a reporter at The New York Times did his best to keep track of power outages blamed on squirrels this summer, and he came up with some startling (or perhaps electrifying?) results.
Jon Mooallem says he became interested in the subject this past April, after reading about how a squirrel knocked out power in Tampa, Fla., putting hundreds of homes there in the dark and suspending state student achievement tests at several local schools.
Mooallem then set up a Google (GOOG) news alert for the term, "squirrel power." And during the 100 or so days between Memorial Day and Labor Day he recorded 50 major, squirrel-related power outages in 24 states. And, as he noted, these 50 blackouts "are only those power outages severe enough to make the news."
So many of these squirrel electrocution/power outages take place that no one seems to have any real data on the overall economic damage the animals cause.
Of course, utilities often take the biggest financial hit. Georgia Power estimated squirrel-related damage cost the company $2 million in 2006, according to USA Today. And a spokeswoman for Austin Energy recently told KXAN-TV in the Texas capital that the animals cause more than 300 power outages every year.
But squirrels appear to be conspiring to bring down America's stock markets, too. The Nasdaq exchange halted trading for 40 minutes in 1987 and again for 34 minutes in 1994 due to squirrel-related power disruptions. And The Wall Street Journal's Moneybeat blog was only half-joking when it reported that no squirrels were believed responsible for the most recent Nasdaq trading disruption, three hours long, on Aug. 22.
DATA PROVIDERS
Copyright © 2014 Microsoft. All rights reserved.
Fundamental company data and historical chart data provided by Morningstar Inc. Real-time index quotes and delayed quotes supplied by Morningstar Inc. Quotes delayed by up to 15 minutes, except where indicated otherwise. Fund summary, fund performance and dividend data provided by Morningstar Inc. Analyst recommendations provided by Zacks Investment Research. StockScouter data provided by Verus Analytics. IPO data provided by Hoover's Inc. Index membership data provided by Morningstar Inc.
MARKET UPDATE
[BRIEFING.COM] Precious metals are trading lower this morning. Dec gold brushed a session low of $1212.50 in recent action and is now down 0.2% at $1214.60. Dec silver traded as low as $12.57 but has been inching higher in recent trade. It is currently at $17.71, or 0.8% lower.

Nov crude oil pulled back from its session high of $91.82 set at pit trade open and is slipping deeper into negative territory. It touched a LoD of $90.77 and is currently down 0.9% at $90.86.

Oct natural ... More
More Market News