Stoned pigs fetching high pork prices
A Washington state farmer and butcher are turning the marijuana-fed animals into expensive bacon and chops. Will the FDA end the party?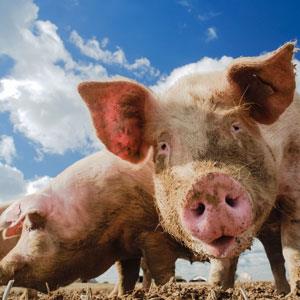 The life of a pig consists primarily of eating, sleeping and playing in the mud with its other pig friends.
Replace that pig pen with a summer concert or festival, and you've just described a stoner's ideal day.
That comparison may sound like a bit of a reach, but Snohomish, Wash., pig farmer Jeremy Gross and Seattle butcher William von Schneidau started drawing that parallel early this year when they began feeding Gross' Berkshire pigs marijuana. Seeing a promotional opportunity in Washington state's recent legalization of recreational marijuana use, the two began feeding the pigs excess pot scraps just to see how it would turn out.
Oh, and to see how it would taste.
We're guessing the butchering part harshes the pigs' buzz a little bit, but the marijuana apparently adds enough flavor for Gross and von Schneidau to sell "pot pig" bacon for $17 a pound and chops for $16.90 a pound at von Schneidau's shop in Seattle's Pike Place Market.

Marked in the butcher's case with little marijuana leaf flags stuck to toothpicks, the cuts are just the latest step in the green rush of marijuana-based companies and products that hit the market after Washington and Colorado voters approved recreational marijuana use in their states last year.
Gross and von Schneidau argue that their pork products aren't just gimmickry but are an experiment in both flavoring and local feed sourcing. Gross had been feeding his pigs recycled byproducts before he struck upon the marijuana idea. He now partners with a marijuana dispensary that provides roots, stems and other waste parts of the plants that marijuana enthusiasts use only under the most dire of circumstances.
Besides, it's not as if the pigs were vice-free before this plan. Gross raises pigs as a side gig to his main job as a construction foreman and wouldn't be able to keep it up if not for the free feed he receives from a local brewery and distillery. The spent grain from both processes gets mixed in with nutrients from his local veterinarian and fed to the pigs, who scarf down the waste just as they do the pot leftovers.
Is it legal? Kind of. Washington state recreational marijuana draft rules say pot plant waste must be "rendered unusable" by being ground or by being mixed with nonconsumable, recycled solid waste, such as food waste, compost, soil and paper waste. Its rules for medical marijuana, however, offer no such provisions.
Still, Gross and von Schneidau's operation may run afoul of the Food and Drug Administration, which considers approval of food additives part of its regulatory domain. While research indicates that cannabis can work its way into meat tissue, Gross says it doesn't get humans high but does result in mellow pigs.
DATA PROVIDERS
Copyright © 2014 Microsoft. All rights reserved.
Fundamental company data and historical chart data provided by Morningstar Inc. Real-time index quotes and delayed quotes supplied by Morningstar Inc. Quotes delayed by up to 15 minutes, except where indicated otherwise. Fund summary, fund performance and dividend data provided by Morningstar Inc. Analyst recommendations provided by Zacks Investment Research. StockScouter data provided by Verus Analytics. IPO data provided by Hoover's Inc. Index membership data provided by Morningstar Inc.
MARKET UPDATE
[BRIEFING.COM] The commodity complex was under pressure today as a stronger dollar index weighed on prices.

Dec gold pulled back from its session high of $1226.30 per ounce set in morning action and traded as low as $1214.60 per ounce, its lowest since January 2014. Unable to gain momentum, it settled 0.8% lower at $1216.50 per ounce, booking a loss of 1.2% for the week.

Dec silver fell to four year lows after trading as high as $18.49 per ounce in early morning floor trade. It ... More
More Market News
TOP STOCKS
Up next: The biggest bank IPO ever
The expected $3.36 billion offering from Citizens Financial Group won't come close to Alibaba's, but it will be an important one for the market.