Tawana Brawley owes $431,000 -- or nothing at all
The woman at the center of a notorious 1987 New York City kidnapping case has ducked a defamation claim awarded to her accuser. That cost her 9% interest each year, but she won't owe anything if she recants.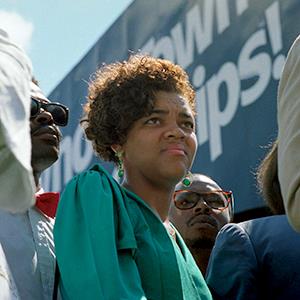 Growing up in New York in the late 1980s and early 1990s meant growing up surrounded by the stories of Bernhard Goetz, Michael Stewart, Howard Beach, Bensonhurst, Eleanor Bumpurs, Crown Heights and the pall cast by racial divisions within the rapidly changing metropolitan area.
Though shadows of each of the above linger -- most recently in parallels between Goetz and George Zimmerman in the midst of the Trayvon Martin case -- few left a wound so raw as that of the case surrounding then-15-year-old Tawana Brawley.

Her story of being kidnapped, raped, smeared with feces, carved up with racial slurs and left in a garbage bag by a gang of white men, including a police officer and a Dutchess County prosecutor, in 1987 was declared a lie by a grand jury and is repeatedly used by detractors of Brawley's key supporter, the Rev. Al Sharpton, as a bludgeon against his credibility.
With Brawley now paying the first installments of a defamation suit against her by one of the men she accused, her case and its aftermath are still fresh more than 25 years later. With interest.
Former Dutchess County Prosecutor Stephen Pagones won a defamation suit against Brawley and her supporters back in 1998. Sharpton was found liable for $66,000, Brawley attorney C. Vernon Mason was found liable for $188,000 and disbarred in 1995, and attorney Alton Maddox was ordered to pay $97,000. All had their fines paid by benefactors.
Brawley, meanwhile, was ordered to pay $185,000 at 9% annual interest. After moving to Richmond, Va., becoming a nurse and avoiding payment for 15 years, Brawley's share has ballooned to $431,492. She has now been required to pay Pagones $627 out of her wages each month and $3,764.61 so far.
Pagones, who watched his first marriage and career as a prosecutor fall apart after the case, is now with a New York private investigation firm. He has remarried, has three daughters and a son, and still lives in Dutchess County. He's spent more than a decade tracking down the now 41-year-old Brawley and told The New York Post that he'd forgive the debt if Brawley recanted her story and admitted wrongdoing.
"Every week, she'll think of me," he told The Post. "And every week, she can think about how she has a way out -- she can simply tell the truth."
Brawley, who now has a husband and a young child and is employed as a nurse in a nursing home, isn't backing down. According to the Post, in a July 22 legal brief signed by Brawley and submitted by Maddox, Brawley refused to comply with the order of the New York court that handed down the defamation verdict because an appearance in the court, "which inferentially sympathizes with the Confederate States of America, would be contrary to the U.S. Constitution and would amount to a 'badge of slavery.'"

Credit Maddox with the turn of phrase. He has petitioned a Virginia court to halt the garnishing of Brawley's wages and gave a quote to the Post about the double standard perceived in New York law -- a quote that sounds remarkably like the language of his legal brief.
"The common law applies to whites," he said. "The slave code still applies to blacks."
Meanwhile, one of New York City's more sordid stories continues, the anger lingers, and the wound still festers. Like Brawley's payout, its effects have only amplified with interest.
More on moneyNOW
DATA PROVIDERS
Copyright © 2014 Microsoft. All rights reserved.
Fundamental company data and historical chart data provided by Morningstar Inc. Real-time index quotes and delayed quotes supplied by Morningstar Inc. Quotes delayed by up to 15 minutes, except where indicated otherwise. Fund summary, fund performance and dividend data provided by Morningstar Inc. Analyst recommendations provided by Zacks Investment Research. StockScouter data provided by Verus Analytics. IPO data provided by Hoover's Inc. Index membership data provided by Morningstar Inc.
MARKET UPDATE
[BRIEFING.COM] Equity indices remain near their flat lines as heavily-weighted sectors continue trading in mixed fashion.

At this juncture, the industrial sector (-0.6%) is the weakest performer among cyclical groups with defense contractors pressuring the space. The PHLX Defense Index is lower by 1.1% with just about every component trading lower. Including today's decline, the Defense Index is now down 2.4% for the week and off 0.7% so far in September. On the upside, General ... More
More Market News