Teachers paying more for kids' school supplies
As state and local governments cut education budgets and voters kill referendums, the folks running classrooms are stocking them, too.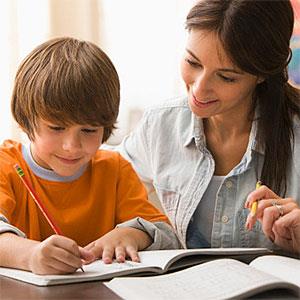 Parents may be
holding off on back-to-school shopping
this year, but their kids' teachers don't have that option.
As NBC News discovered, increased school district cutbacks across the country are forcing teachers to dip into their own pockets to buy supplies for students that are usually covered by the schools themselves. According to a recent survey conducted by insurance firm Horace Mann, which focuses on products for teachers, 53% of teachers said their budgets for classroom supplies have been cut.
General items, including paper and pens, top the list of materials not covered sufficiently by current budgets. That's followed by math and science tools, then reading material. According to the survey, 26% of the 814 teachers participating spent $400 of their own money on supplies last year -- a 3% increase from 2011.
Only about 9% of K-12 education funding comes from the federal government, which leaves school budgets in the hands of state and local agencies. In many cases, it's left to voters to determine funding through referendum items.
Last November, California voters approved Proposition 30 to increase taxes and shift more funding toward education. In June, California's legislature passed Gov. Jerry Brown's budget calling for a $38 billion increase in education spending for grades K through 12. Florida, Texas and North Dakota, however, have implemented state education cuts and are determined to keep them in place.

In North Carolina, those cuts have been particularly acute.
"We're letting our teachers know how rough the situation is," said Eric Moore, a fiscal accountant at the North Carolina Department of Public Instruction, told CNBC.com. "We've only got about 35% of our past budgets for supplies this year. After the Great Recession, decisions were made to cut supply funding instead of teaching positions, and we're still facing that lack of funding."
That's forcing an increasing numbers of teachers to go online and seek donations for items including pens, paper or computers. While groups like cut-rate supply company RAFT help that cause, charity sites including DonorsChoose.org assist teachers in paying for bigger items including field trips and science fairs.
"We've had a 30% year growth from last year in the number of requests from teachers," Charles Best, CEO of DonorsChoose.org, told CNBC.
If skinflint taxpayers don't want to pay to educate their kids or, at the very least, improve their school district and local property values, they shouldn't be surprised when their kids' schools look like the charity wards they've become.
DATA PROVIDERS
Copyright © 2014 Microsoft. All rights reserved.
Fundamental company data and historical chart data provided by Morningstar Inc. Real-time index quotes and delayed quotes supplied by Morningstar Inc. Quotes delayed by up to 15 minutes, except where indicated otherwise. Fund summary, fund performance and dividend data provided by Morningstar Inc. Analyst recommendations provided by Zacks Investment Research. StockScouter data provided by Verus Analytics. IPO data provided by Hoover's Inc. Index membership data provided by Morningstar Inc.
MARKET UPDATE
[BRIEFING.COM] The major averages ended the midweek session with slim gains after showing some intraday volatility in reaction to the release of the latest policy directive from the Federal Open Market Committee. The S&P 500 added 0.1%, while the relative strength among small caps sent the Russell 2000 higher by 0.3%.

Equities spent the first half of the session near their flat lines as participants stuck to the sidelines ahead of the FOMC statement, which conveyed no changes to the ... More
More Market News