The AMA's unhealthy role in setting doctor payments
The physician group plays a little-known part in how the government reimburses its members. The result is higher costs.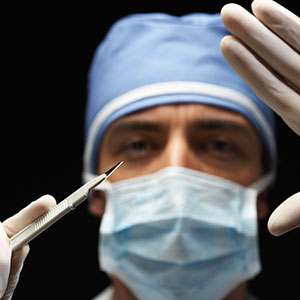 Updated July 24.
Some doctors are reaping huge profits courtesy of a secretive American Medical Association committee that helps set the rates they charge, which seem divorced from economic reality, according to an expose the
Washington Post
published over the weekend.
These AMA estimates, which are required by federal law, overstate the amount of time it takes a physician to perform some tasks by as much as 100%. Critics argue this is helping fuel the skyrocketing costs Americans pay for health care.
"If the time estimates are to be believed, some doctors would have to be averaging more than 24 hours a day to perform all of the procedures that they are reporting," the newspaper says. "In some specialties, more than one in five doctors would have to have been working more than 12 hours on average on a single day -- much longer than the 10 hours or so a typical surgery center is open."
Take a common procedure such as a colonoscopy. The AMA estimates that physicians can perform the screening in 75 minutes, more than double the 30 minutes it actually takes, according to the Post.
Similar problems were found with ophthalmologists. The Post found one Florida specialist who performed 3,594 procedures for cataracts and other ailments last year. That works out to 30-40 surgeries per day on the Mondays and Tuesdays he performs these procedures, or a 30-hour-plus workday. 
The Post story is both enlightening and depressing. None of these doctors have done anything illegal, which is why Congress needs to change the rules. Physicians have long argued that they aren't to blame for soaring health care costs even though most earn comfortable livings.
Many medical experts have long argued that physicians are rewarded too generously for performing tests rather than making their patients feel better. It's a system that's counterproductive and costly.
Total health care spending
in the U.S. will nearly double to $4.6 trillion in 2020, versus $2.6 trillion in 2010. To make matters worse, all that spending isn't making people any healthier. In fact, a recently released study found the U.S.
had fallen behind
its peers in most measures of health.
Having the AMA figure out what physicians should be paid is like having a fox guard a henhouse. It's hardly a shock that the main lobbying group for doctors would create a system that rewards its members. An AMA spokesperson didn't immediately respond to a request for comment.
Update:
On the day after this story was published, a spokesperson for the AMA responded, defending the association's practice and disputing that it has caused an increase in health care costs, saying that claim "completely ignores the fact that the Medicare physician payment system is ultimately budget-neutral. There is no financial impact if the government accepts a physician recommendation for increasing a medical service value since the budget neutrality rule requires offsetting reductions to all other values."

Follow Jonathan Berr on Twitter @jdberr.
DATA PROVIDERS
Copyright © 2014 Microsoft. All rights reserved.
Fundamental company data and historical chart data provided by Morningstar Inc. Real-time index quotes and delayed quotes supplied by Morningstar Inc. Quotes delayed by up to 15 minutes, except where indicated otherwise. Fund summary, fund performance and dividend data provided by Morningstar Inc. Analyst recommendations provided by Zacks Investment Research. StockScouter data provided by Verus Analytics. IPO data provided by Hoover's Inc. Index membership data provided by Morningstar Inc.
MARKET UPDATE
[BRIEFING.COM] Not much change in the major averages as they continue hovering near their lowest levels of the day. The S&P 500 (-0.8%) notched its session low around 12:00 ET and has maintained a seven-point range since then. Meanwhile, the price-weighted Dow Jones Industrial Average (-0.5%) continues trading a little ahead of the benchmark index.

Six Dow components remain in the green, but the leading performer, DuPont (DD 71.75, +0.50), is the only stock showing an increase ... More
More Market News