Arctic's Northwest Passage beckons China
Global warming is opening sea lanes over Russia that could take weeks off shipping times to Europe. But it's hardly clear sailing.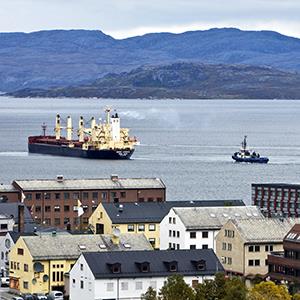 If you had the choice of taking a shorter, potentially deadlier sea route that's open just a few months every year or a tried-and-true but longer rout that takes you through contested and, in some cases, pirate-filled waters, which would you take?
No, staying home isn't an option. In an attempt to avoid the circuitous route from China to Europe that runs through the Indian Ocean, Suez Canal and Mediterranean Sea, the Chinese cargo ship Yong Shen operated by Cosco Group is attempting the country's first-ever commercial trip through the Arctic's Northwest Passage over Russia.
The ship set sail on Aug. 9 from Dalian in northeast China and is headed for Rotterdam. Cosco believes the journey through the Bering Strait could shave as much as two weeks off the trip, from 48 to 35 days. The problem is that even with global warming opening it up a bit, the Northwest Passage is still a dicey proposition.
For starters, it's still a relatively recent development that few have dare tried. Russian authorities have granted 372 permits this year to ships intent on sailing all or some of the passage, compared with 46 last year and only four in 2010. That's fairly minute compared with the 17,000 ships that went through the Suez Canal last year alone and still may be a bit overzealous for a stretch of sea that still hasn't quite warmed up.
"Climate change is certainly opening new Arctic shipping routes," said Cameron Dueck, a Canadian author who sailed the Northwest Passage in 2009 and shared a bit of his story with The Financial Times. "But the most common routes through the (Arctic) continue to have ice even in the warmest years, meaning shipping companies will have to be selective and opportunistic in using them."
Valentin Davydants, the captain of Russia's Atomflot fleet of nuclear-powered icebreakers, told the FT he estimates that by 2021, 15 metric tons of cargo will use the full route. That's still a slow trickle compared with the 929 metric tons that went through the Suez Canal in 2011.
The Northwest Passage may become a more viable option as melting sea ice eliminates icebreakers now required under Russian rules for all journeys. For China, it also means avoiding passage to the contested South China Sea, the Strait of Malacca and pirate-infested waters of the Indian Ocean.

That has given China considerable interest in the chilly North. It already claims to be a "near-Arctic state" and is pushing claims in the Northern Pacific and Arctic oceans. In May, Beijing secured "permanent observer" status at the Arctic Council, a group uniting the eight countries with territory in the polar region.
If the Northwest Passage does open soon, China is sending the message that it won't just be Russia's little stowaway along the advantageous new route.
DATA PROVIDERS
Copyright © 2014 Microsoft. All rights reserved.
Fundamental company data and historical chart data provided by Morningstar Inc. Real-time index quotes and delayed quotes supplied by Morningstar Inc. Quotes delayed by up to 15 minutes, except where indicated otherwise. Fund summary, fund performance and dividend data provided by Morningstar Inc. Analyst recommendations provided by Zacks Investment Research. StockScouter data provided by Verus Analytics. IPO data provided by Hoover's Inc. Index membership data provided by Morningstar Inc.
MARKET UPDATE
[BRIEFING.COM] S&P futures vs fair value: -5.50. Nasdaq futures vs fair value: -13.00. Nasdaq at... NYSE Adv/Dec 0/0... Nasdaq Adv/Dec 0/0.
More Market News