The $20 cardboard bike is getting a lot costlier
And the developers' crowd-sourcing strategy isn't going over so well with donors who are now told they're really not needed.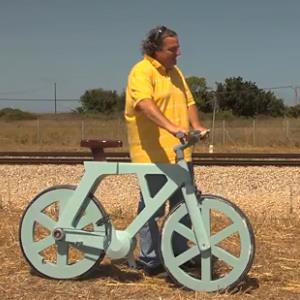 The $20 cardboard bike has hit a few obstacles on its slow ride to reality, and we don't mean torrential downpours or ne'er-do-well kids armed with box cutters.
When Israeli inventor Izhar Gafni (pictured) announced his plans for a bike made completely of recycled cardboard and car tires, he made a few really bold claims. He vowed the tires would never puncture. He insisted the frame's folded and glued cardboard could hold a 275-pound passenger. He claimed a mystery resin applied to the bike's exterior renders it not only waterproof but fireproof.
More important, according to Fortune, he claimed the $9 to $12 cost of materials for each bike would allow the bikes to sell for $20 apiece. That would make them affordable enough to "help kids in under-developed countries get to school and help their parents get to work," according to the project's IndieGogo fundraising website.
Unfortunately for Gafni, that promised $20 price tag has made the bike's path to the marketplace a lot rougher than he or his donors realized.
For reasons the cardboard bike's backers at Cardboard Technologies are struggling to clarify, the bike first hit Indiegogo with a price tag of $290, or roughly 14 times the promised sale price. By Monday, a week after the campaign set its $2 million fundraising goal, only 24 bikes had been purchased and $24,000 raised. By Tuesday, the price had dropped to $95, plus a $40 shipping charge, and original donors were offered a choice of a refund or two more bikes.
Cardboard Technologies chief executive Nimrod Elmish says the higher price for donors in Western cities will ensure extremely low prices for buyers in impoverished countries, much like the now-defunct Give One, Get One campaign used by the One Laptop Per Child initiative that required a $400 donation for what were initially billed as $100 laptops.
"We want to bring a social business model that will make (the cardboard bike) available to all," he added. "We don't have a price tag, we have a value tag."
Although lowering the price a bit had goosed donations by about $4,000 by noon on Wednesday, Elmish's declaration to Fortune that the company basically didn't need crowd funding to begin with hasn't helped. While it's great that Cardboard Technologies has investors including former Timberland CEO Jeff Swartz lined up to help mass-produce the bikes, even crowd-sourced donors don't like feeling like they're being used as social show ponies.
"We wanted to give people the chance to join us and be part of" the project, Elmish told Fortune.
If the online donations are just a token gesture, then what's the incentive to wait around for the bikes' delivery in March 2015? Why help the founders hit their $2 million goal when they apparently already have it in the bank?
Even socially conscious donors need to feel like they're actively contributing. Otherwise, they're just angry consumers like the folks who donated money for the computerized Pebble watch, only to seethe each time it was delayed.
DATA PROVIDERS
Copyright © 2014 Microsoft. All rights reserved.
Fundamental company data and historical chart data provided by Morningstar Inc. Real-time index quotes and delayed quotes supplied by Morningstar Inc. Quotes delayed by up to 15 minutes, except where indicated otherwise. Fund summary, fund performance and dividend data provided by Morningstar Inc. Analyst recommendations provided by Zacks Investment Research. StockScouter data provided by Verus Analytics. IPO data provided by Hoover's Inc. Index membership data provided by Morningstar Inc.
MARKET UPDATE
[BRIEFING.COM] The major averages posted solid gains ahead of tomorrow's policy directive from the Federal Open Market Committee. The S&P 500 rallied 0.8%, while the Russell 2000 (+0.3%) could not keep pace with the benchmark index.

Equity indices hovered near their flat lines during the first two hours of action, but surged in reaction to reports from the Wall Street Journal concerning tomorrow's FOMC statement. Specifically, Fed watcher Jon Hilsenrath indicated that the statement ... More
More Market News