The poverty rate holds steady
The number of struggling Americans and the median US paycheck haven't changed since 2011. How surprising.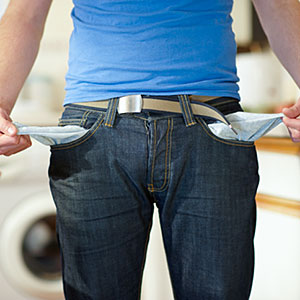 If there's a war on poverty going on in the United States, someone may want to tap the nation's leaders on the shoulder and remind them to fight it.
A new report from the Census Bureau indicates that both the nation's poverty rate and real median household income went nowhere in 2012.

About 15% of U.S. citizens, or 46.5 million people, lived at or below the poverty line of $23,492 a year for a family of four. Those numbers weren't statistically different from the same data from 2011, but the poverty rate is 2.5 percentage points higher than it was in 2007.
Nearly 22% of those living in poverty are children below the age of 18. Those 16.1 million children comprise a population larger than that of Cuba, Belgium, Greece, Portugal or Sweden. It's roughly equivalent to the populations of Israel and Switzerland combined.
Meanwhile, the full count of Americans living in poverty is only slightly less than the entire population of Spain. That's scarcely surprising in a nation where 47.5 million people are on food stamps, but especially discouraging when the average U.S. paycheck also refuses to increase.
Median household income in the United States in 2012 was $51,017, which is still beneath the 2011 median of $51,100. Even that 2011 number followed two straight years of decline and is nowhere near the $56,080 average salary from 1999. In fact, last year's real median household income is still 8.7% lower than it was in 2007, just before the recession.
Don't expect Americans to even feign surprise at those numbers. The poverty rate hasn't improved in six years. Unemployment -- real unemployment, not just the number the Bureau of Labor Statistics floats out each month -- hovers around 11%. Even the college educated are working for minimum wage.
Even the Census Bureau's good news hasn't been great. The percentage of people without health insurance coverage declined to 15.4% in 2012 -- from 15.7% in 2011. However, the 48.0 million people without coverage in 2012 was not statistically different from the 48.6 million in 2011.
So does anyone have any reason for optimism or hope for recovery? Look west, where median household incomes have risen 3.2% since 2011 compared to stagnant growth everywhere else. Meanwhile, the poverty rate dropped from 15.8% in 2011 to 15.1% last year. That's still higher than the national average, but it still beats the alternative.
DATA PROVIDERS
Copyright © 2014 Microsoft. All rights reserved.
Fundamental company data and historical chart data provided by Morningstar Inc. Real-time index quotes and delayed quotes supplied by Morningstar Inc. Quotes delayed by up to 15 minutes, except where indicated otherwise. Fund summary, fund performance and dividend data provided by Morningstar Inc. Analyst recommendations provided by Zacks Investment Research. StockScouter data provided by Verus Analytics. IPO data provided by Hoover's Inc. Index membership data provided by Morningstar Inc.
MARKET UPDATE
[BRIEFING.COM] The stock market finished the Tuesday session on the defensive after spending the entire day in a steady retreat. The S&P 500 (-0.6%) posted its third consecutive decline, while the small-cap Russell 2000 (-0.9%) slipped behind the broader market during afternoon action.

Equity indices were pressured from the start following some overnight developments that weighed on sentiment. The market tried to overcome the early weakness, but could not stage a sustained rebound, ... More
More Market News