The US has nearly doubled its minimum wage before
In 1949, President Truman prevailed over critics who said going from 40 cents to 75 cents an hour would be a disaster. It was anything but.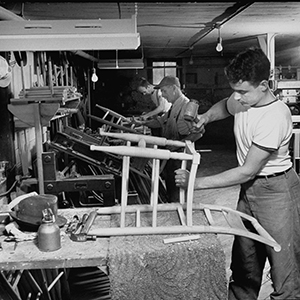 With fast-food and retail workers
striking on Thursday
and over Labor Day weekend in an effort to raise the federal minimum wage
from $7.25 an hour to $15
, surely they realize the daunting odds against them.
After all, it's not as if the nation has ever raised the minimum wage by nearly that much, right?
Well, not in a while, but it has happened. As The Huffington Post pointed out with some help from historians, President Harry Truman got the nation's lowest-paid workers an 87.5% raise in 1949 despite a faltering economy and staunch political opposition.
The U.S. had gone into its second deep recession in a four-year span. Congress had refused to raise the minimum wage from its 1938 level in both 1947 and 1948, while the coalition of Southern Democrats and Republicans that controlled both chambers outwardly resisted Truman's extension of Franklin Delano Roosevelt's New Deal, with the so-called Fair Deal.
Regardless, Truman proposed nearly doubling the minimum wage from 40 cents an hour to 75 cents. That would be the equivalent of raising a $5.70 minimum wage today to $10.70.
Considering the absolutely frigid reception President Barack Obama received when he recently suggested raising the minimum wage to $9, Truman's gambit would be a long shot even today.
But he wasn't going to budge on the 75-cent figure, so Truman surrounded his proposed minimum wage hike in other ideas that made it seem downright conservative by comparison. The original White House bill sought industry-specific rates as high as $1 per hour. It wanted to extend minimum wage protections, from one-third of the labor force to nearly a half of all workers.

In a master stroke, Truman included language that would have allowed government agents to sue employers for back wages.
That last bit put all of the suits out of sorts. Big companies including S.C. Johnson, Metropolitan Life Insurance, Standard Oil and General Motors (GM), lobbied against the proposal. The U.S. Chamber of Commerce -- which is still the dummy to corporate ventriloquists -- wailed that both inflation and unemployment would rise if the minimum ent up.
In negotiating with Congress, Truman simply used the other portions of the proposal as leverage. If they'd allow the minimum-wage hike, he'd strip away the other parts that offended them. By the time the bill came up to a vote, the minimum wage clauses were protected. The measure passed the Senate by 50 to 23, and Truman signed it into law on Oct. 26, 1949.
Of course, the minimum wage hike came with just about none of the negative effects critics had predicted. Unemployment didn't rise, business kept chugging along and a 1954 Labor Department study found at least 1.3 million people received immediate raises when the increase took effect.
Truman wasn't nearly as successful with the rest of his labor agenda and found himself bogged down by the Korean War, but he still scored enough bragging rights to say during his last State of the Union address in 1952 that "our democracy has not forgotten how to use the powers of the government to promote the people's welfare and security."

A two-decade boom followed.
DATA PROVIDERS
Copyright © 2014 Microsoft. All rights reserved.
Fundamental company data and historical chart data provided by Morningstar Inc. Real-time index quotes and delayed quotes supplied by Morningstar Inc. Quotes delayed by up to 15 minutes, except where indicated otherwise. Fund summary, fund performance and dividend data provided by Morningstar Inc. Analyst recommendations provided by Zacks Investment Research. StockScouter data provided by Verus Analytics. IPO data provided by Hoover's Inc. Index membership data provided by Morningstar Inc.
MARKET UPDATE
[BRIEFING.COM] The major averages posted solid gains ahead of tomorrow's policy directive from the Federal Open Market Committee. The S&P 500 rallied 0.8%, while the Russell 2000 (+0.3%) could not keep pace with the benchmark index.

Equity indices hovered near their flat lines during the first two hours of action, but surged in reaction to reports from the Wall Street Journal concerning tomorrow's FOMC statement. Specifically, Fed watcher Jon Hilsenrath indicated that the statement ... More
More Market News