Think your car is costly? Check out prices in China
Middle-class consumers there pay more for everything compared with their American counterparts.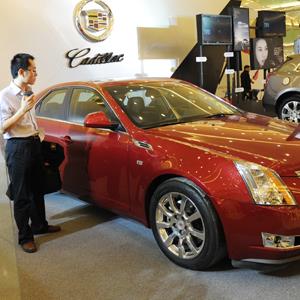 OK, so the average price for a new car in the U.S. hit a record high in August. Good news for the overall economy perhaps (or at least the automakers), but maybe not so good for the average American consumer. However, if it's any consolation, consider your middle-class counterparts in China, who are paying through the nose when it comes to many of the goods and services that help make to life manageable.
According to The Wall Street Journal, price comparisons of hundred of items in China -- where the average per capita income is about $7,500 -- and in the U.S. show some startling discrepancies. The Journal says clothing and other apparel cost Chinese consumers on average 70% more than Americans pay. And the price gap occurs across a wide spectrum of goods, from big-ticket items to everyday purchases.
A fancy coffee drink at Starbucks (SBUX) in China costs a dollar more than in a U.S. store. And a General Motors (GM) Cadillac Escalade Hybrid Base 6.0, which lists for just over $73,000 in the U.S., runs around $229,000 in China.
Several reasons account for this disparity. The Journal points to issues such as government taxes and import tariffs, but there's also an element of keeping up with the Joneses. For years, the paper said, China's fast-growing middle class has been willing to put up with paying more to acquire imported goods and trendy products.
"Companies happily charged what the market would bear," it notes, "even finding high prices could help provide a quality halo effect, winning customers psychologically. In many cases, when foreign manufacturers charged more, Chinese producers followed suit."
But Chinese consumers also face financial pressures of their own and have apparently had enough. Thanks to the Internet, they can comparison shop and make purchases online. Many affluent Chinese are also waiting to travel abroad to take advantage of better prices, especially on luxury goods.
Chinese authorities have taken the hint and are cracking down on price manipulation at home, with investigations into the retail jewelry, infant formula, pharmaceutical and auto sectors.
Another big issue, according to observers, is China's massive bureaucracy. "It can take months upon months -- passing tests and getting licenses -- to open a retail store in China," Rocky Lee, head of the Asia corporate practice at law firm Cadwalader Wickersham & Taft in Beijing, told the WSJ. "Permits and bureaucracy cost; all of that is passed on to the consumer."

Passing tests and getting licenses in China?  The dumb writer never heard of a bribe.  Works all the  time in China.   Umport duties.  Remember those nasty things that our politicians did away with here in the U.S.   China and the rest were going to do away with those things.  Guess what? They lied.

Most people in Asia are living in class societies.  In addition to keeping up with the Jones, they like to show off their status for their ego.  And most people there do not learn or use to the idea you can sell low but you earn more because you sold more yet.   Also, that is the price before barter.  I hate barter.

Are you sure you want to delete this comment?
DATA PROVIDERS
Copyright © 2014 Microsoft. All rights reserved.
Fundamental company data and historical chart data provided by Morningstar Inc. Real-time index quotes and delayed quotes supplied by Morningstar Inc. Quotes delayed by up to 15 minutes, except where indicated otherwise. Fund summary, fund performance and dividend data provided by Morningstar Inc. Analyst recommendations provided by Zacks Investment Research. StockScouter data provided by Verus Analytics. IPO data provided by Hoover's Inc. Index membership data provided by Morningstar Inc.
MARKET UPDATE
[BRIEFING.COM] The stock market finished an upbeat week on a mixed note. The S&P 500 shed less than a point, ending the week higher by 1.3%, while the Dow Jones Industrial Average (+0.1%) cemented a 1.7% advance for the week. High-beta names underperformed, which weighed on the Nasdaq Composite (-0.3%) and the Russell 2000 (-1.3%).

Equity indices displayed strength in the early going with the S&P 500 tagging the 2,019 level during the opening 30 minutes of the action. However, ... More
More Market News