This Bud's for Rihanna
The pop singer joins Jay-Z and Justin Timberlake in pitching Budweiser and attempting to steady the faltering brand.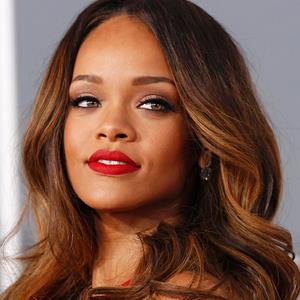 No clouds in her stones -- or her beer either.
Rihanna is reuniting with "Umbrella" collaborator and occasional touring partner Jay-Z after signing a deal with Anheuser-Busch Inbev (BUD) that puts both her and Jay-Z at the front of a campaign for its Budweiser brand. According to Ad Age, the "Made for Music" marketing push begins in 85 countries next week and includes TV commercials, limited-edition packaging, and sponsorships of Rihanna's and Jay-Z's concerts.
A-B Inbev has been struggling to make Budweiser palatable to Americans again after MolsonCoors' (TAP) Coors Light replaced it as the nation's No. 2 brand in 2011. Bud sales tanked 29% in the five years before that, and the brand has lost more than 60% of its sales since its 50 million-barrel peak in 1988.
At that time, Budweiser accounted for more than 25% of all beer sold in the U.S. For some perspective, Budweiser once held market share close to that now held by both the Miller and Coors brands combined (27%).
A-B Inbev has thrown just about everything at the wall to halt that trend. It has introduced premium brands like Budweiser American Ale, Budweiser Black Crown, Bud Light Lime margarita flavors, Justin Timberlake-marketed Bud Light Platinum, and Jay-Z's own Budweiser Select.

It purchased Chicago small brewer Goose Island from the Craft Brew Alliance (BREW) last year. It's hosting its Made in America music festival in Philadelphia this August with Beyonce and Nine Inch Nails, and it has been sponsoring pop-culture site A.V. Club's A.V. Undercover performances in an attempt to get younger audiences to drink its declining brand.
Bud's latest deal with Rihanna and Jay-Z covers 160 events in 25 countries, including the Made in America event. Jay-Z is scheduled to begin a tour with Timberlake later this month called "Legends of the Summer." Examples of the special packaging include a Rihanna travel case, which is a 24-pack of Budweiser beers that come in black cans emblazoned with a "Diamonds World Tour" logo.
Packaging has been kind of a sore spot for Budweiser as well, as new bow-tie cans it introduced in spring reduced the amount of beer in them to 11.3 ounces. Hiring Rihanna, Jay-Z and Timberlake is a move away from such indignities, however, and may represent a step in the right direction for Bud and its parent company.
Until Beer Marketer's Insights reported an estimated 0.6% uptick in A-B InBev sales for 2012, the big brewer had seen sales drop each year since 2008.

They could start by making their beer not taste awful. The microbrew explosion that began in the '90s has educated Americans on what proper beer tastes like, as well as provided us with ample alternatives to the lackluster corporate macrobrews. Is it really a surprise that there's been a massive drop in sales of Budweiser since 1988?


If Bud and other mass beer producers want people to buy watered down, average tasting beer, they need to make the prices cheaper.
When a 6 pack of Bud is the same price as a 6 pack of a local microbrew, there's no reason to take the watered down Bud.  If it were a couple bucks cheaper, I'd probably buy it.

@theaphidgod Agree 100 percent. Not sure why they keep throwing more money in concerts or ads. Try throwing more money into making different beer. With the exception of Black Crown, the rest (Bud, Bud Light, Bud Light Plat, Bud Select) all tastes the same. You would think with all that money they would be able to make some outstanding beer, but hey, they have an image to protect i guess....
Go try some of these: Bridgeport Hop Czar Imperial IPA, Widmer Hef, Rogue American Amber Ale, Ninkasi Total Domination IPA.
Are you sure you want to delete this comment?
DATA PROVIDERS
Copyright © 2014 Microsoft. All rights reserved.
Fundamental company data and historical chart data provided by Morningstar Inc. Real-time index quotes and delayed quotes supplied by Morningstar Inc. Quotes delayed by up to 15 minutes, except where indicated otherwise. Fund summary, fund performance and dividend data provided by Morningstar Inc. Analyst recommendations provided by Zacks Investment Research. StockScouter data provided by Verus Analytics. IPO data provided by Hoover's Inc. Index membership data provided by Morningstar Inc.
MARKET UPDATE
[BRIEFING.COM] The stock market began the new trading week on the defensive note with small-cap stocks pacing the retreat. The Russell 2000 (-1.4%) and Nasdaq Composite (-1.1%) displayed relative weakness, while the S&P 500 lost 0.8% with all ten sectors ending in the red.

Global equities began showing some cracks overnight after China's Finance Minister Lou Jiwei poured cold water on hopes for new stimulus measures. Specifically, Mr. Lou said the government has no plans to change ... More
More Market News