This software can spot a celeb's face in a store
The new technology aims to improve the shopping experience for the rich and famous. Its benefits for stores, however, may be minimal at best.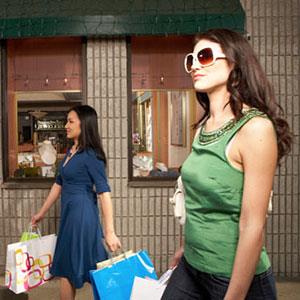 It's bad enough that the average, relatively faceless consumer has his or her
Wi-Fi signal tracked
during trips to
Nordstrom
(
JWN
).
As NPR reports, it gets even tougher when that customer happens to be a celebrity and facial recognition software offered by NEC IT Solutions tips off store management to her presence. More commonly used to identify terrorists and criminals, the ID technology analyzes footage of people's faces as they walk through a door, takes measurements to create a numerical code known as a "face template" and checks it against a database.
For celebs, according to London's Sunday Times, if a face is a match, the program sends an alert to staff via computer, iPad or smartphone, providing details like dress size, favorite purchases or shopping history.
The dozen stores and hotels in the U.S., U.K. and Far East where the system is being tested use the software as a customer-service tool, but far more is at stake than keeping the stars happy.
As everybody is well aware, the global economy is a bit dicey right now. The retail and hotel sectors can use a boost and have become less ashamed about using the same tactics that casinos and strip clubs commonly employ. When high rollers are in the room, all hands are on deck to make sure they're happy -- and as much of their money as possible stays in-house.
The technology is similar to that found in Google (GOOG) Images, which allows users to find photos that look like other images, but it comes with the same potential pitfalls that resulted in facial-recognition technology being removed from Google Glass. Chris de Silva, vice president of IT Solutions at NEC, told The Sunday Times the company looked into its own privacy issues and found that most high-profile customers are "quite happy to have their information available because they want a quicker service, a better-tailored service or a more personally tailored service."
Basically, if you've already traded so much of your privacy in exchange for fame, why draw the line at the store when it could actually improve your shopping experience? Maybe because searching for big spenders has far less merit and return on investment than using Wi-Fi data to map out the spending patterns of your everyday customer.

Industry experts have already referred to the technology as gimmicky and costly, countering that customized coupons and improved store layouts have much greater impact on sales than alerting the staff to the presence of Flo Rida in Aisle 5.


DATA PROVIDERS
Copyright © 2014 Microsoft. All rights reserved.
Fundamental company data and historical chart data provided by Morningstar Inc. Real-time index quotes and delayed quotes supplied by Morningstar Inc. Quotes delayed by up to 15 minutes, except where indicated otherwise. Fund summary, fund performance and dividend data provided by Morningstar Inc. Analyst recommendations provided by Zacks Investment Research. StockScouter data provided by Verus Analytics. IPO data provided by Hoover's Inc. Index membership data provided by Morningstar Inc.
MARKET UPDATE
[BRIEFING.COM] S&P futures vs fair value: -6.30. Nasdaq futures vs fair value: -14.80. U.S. equity futures trade hover near their pre-market lows amid cautious action overseas. The S&P 500 futures hover six points below fair value, which puts the benchmark index on track to continue its retreat after losing 0.8% yesterday.

Overnight, markets in Asia traded in mixed fashion, but sentiment worsened after the start of the European session, where all the key indices hold losses ... More
More Market News