Those new $100 bills get delayed yet again
This time shoddy ink work is the culprit. The cost of botched Benjamins goes beyond the toll on taxpayers.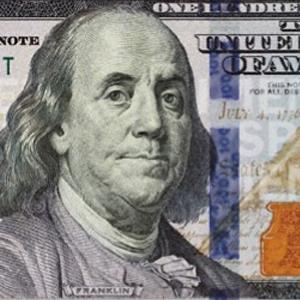 When your solution to the nation's economic woes involves printing more money, it pays to at least get the printing part right.
The Federal Reserve originally planned to put a redesigned $100 bill into circulation by 2011. It was going to have tiny 3-D bits that moved when you tilted the bill, a revised hidden message on Ben Franklin's collar and a Liberty Bell that changes color.
Instead, the project has been plagued by setback after setback and, according to The New Yorker, yet another production error has postponed the new bills again. Take your time, Fed: It's not as if the $100 bill is one of our nation's biggest exports or anything.
A massive printing error, in which some notes were left with a blank spot, prevented the new $100 from going public in 2011. Now, the Bureau of Engraving and Printing (BEP) says the latest batch of bills have been scuttled by "mashing," which occurs when too much ink is applied to the paper and the artwork's lines aren't as crisp as they should be.
Recent batches of cash from the Washington, D.C., plant contained "clearly unacceptable" notes mixed with passable ones, according to a July memo to employees from Larry Felix, the bureau's director. The Fed is returning more than 30 million $100 notes and demanding a refund, while another $30 billion dollars' worth waits to be examined.

The Fed has told the BEP that it won't accept any $100 notes made at the Washington, D.C., facility until further notice.
Thanks to the quality-control breakdown, the bureau now has very little breathing room to hit an Oct. 8 deadline for delivering this year's cash orders and getting the new $100 bill into circulation. The country's other money printer, in Fort Worth, Texas, has been ordered to step up production and given a harsh ultimatum from Felix: "If the BEP does not meet the order, the BEP does not get paid."
This currency conundrum has far more costly consequences. Taxpayers are on the hook for inspecting, correcting, producing, transporting and securing all the reprinted money, as well as disposing of the errant bills. A far higher cost could be the erosion of trust in the denomination that's quickly become a global favorite.
Roughly 84% of the new cash in circulation since 1990 has been in the form of $100 bills. They made up 77% of the value of all cash in circulation in 2012, up from just 52% in 1990. Basically, anyone who wants to stash $1 million away from Uncle Sam or exchange it for something the government doesn't like only needs a bunch of $100 bills, a large briefcase and some motivation.
Meanwhile, the amount of U.S. currency being held abroad has jumped from $280.4 billion in 1990 to more than $454 billion today. The Commerce Department considers it an increase in foreign-owned assets in the U.S. -- kind of like a zero-interest loan. But folks in financially troubled countries like Greece and Cyprus are using U.S. currency as a hedge against the euro, and a Federal Reserve study says 65% of all $100 bills in existence circulate outside the U.S.
The Fed is already having a tough time making friends at home, where a growing number of angry voices press it to justify its existence. If these printing slip-ups disrupt the wrong people's cash flow abroad, a tea party might seem charming compared to what awaits it around the globe.
DATA PROVIDERS
Copyright © 2014 Microsoft. All rights reserved.
Fundamental company data and historical chart data provided by Morningstar Inc. Real-time index quotes and delayed quotes supplied by Morningstar Inc. Quotes delayed by up to 15 minutes, except where indicated otherwise. Fund summary, fund performance and dividend data provided by Morningstar Inc. Analyst recommendations provided by Zacks Investment Research. StockScouter data provided by Verus Analytics. IPO data provided by Hoover's Inc. Index membership data provided by Morningstar Inc.
MARKET UPDATE
[BRIEFING.COM] The major averages have not wasted any time in rebounding from their opening lows. The S&P 500, which started with an eight-point loss, has already recovered all but two points help from influential sectors like energy (+0.4%), financials (+0.1%), and technology (+0.1%).

On the flip side, consumer discretionary (-0.1%), industrials (-0.3%), and health care (-0.4%) remain weak.

The performance of the six sectors is likely to influence the direction of the ... More
More Market News