Tim Geithner gets on the road to riches
The former Treasury secretary hits the lecture circuit, where he picked up $400,000 for just 3 speeches.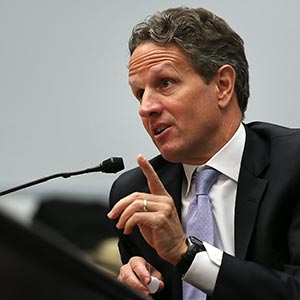 How does one follow up a career that includes serving as the U.S. Treasury secretary and the president of the Federal Reserve Bank of New York? If you're Tim Geithner, you go on the lucrative public-speaking circuit. 
Last month, he earned $200,000 for a speech at a Deutsche Bank (DB) conference after netting about $200,000 for two speaking engagements in April and May, the Financial Times reports. That $400,000 in earnings for just three speaking engagements gains him entry into the highest echelon of public speakers. 
So what are clients paying for? Geithner -- who made $191,300 during his first year as the Treasury secretary -- is imparting words of wisdom about Federal Reserve policy and his view on the world, the FT notes. A spokesman for Geithner declined to comment to the publication. 
Last month, Geithner joined former French President Nicolas Sarkozy and former Italian Prime Minister Mario Monti at the Deutsche Bank annual conference in Britain, the piece adds. 
Geithner's transition to public speaker follows a path trod by other former public officials like former President Bill Clinton. They've been able to leap from their well-paying but not spectacularly lucrative government jobs into the realm of the superrich. (Clinton is considered one of the highest-earning public speakers, bringing in $13.4 million in 2011 for such work, with his highest-paying client shelling out $750,000.)
Geithner was one of the least wealthy Treasury secretaries in recent history, and he took a 50% pay cut to join the department, Bloomberg notes. But his pre-Treasury annual earnings of $411,200 have been almost surpassed by just those three speaking gigs, suggesting that, like Clinton, he'll soon be reeling in a small fortune from giving speeches.
His predecessor at the Treasury, Henry Paulson, had banked a $500 million fortune from his career at Goldman Sachs Group (GS), while two previous Treasury secretaries, John Snow and Paul O'Neill, each had assets of more than $75 million. Geithner will have to do a whole lot of speaking to get anywhere near those guys.

Follow Aimee Picchi on Twitter at @aimeepicchi.
DATA PROVIDERS
Copyright © 2014 Microsoft. All rights reserved.
Fundamental company data and historical chart data provided by Morningstar Inc. Real-time index quotes and delayed quotes supplied by Morningstar Inc. Quotes delayed by up to 15 minutes, except where indicated otherwise. Fund summary, fund performance and dividend data provided by Morningstar Inc. Analyst recommendations provided by Zacks Investment Research. StockScouter data provided by Verus Analytics. IPO data provided by Hoover's Inc. Index membership data provided by Morningstar Inc.
MARKET UPDATE
[BRIEFING.COM] Precious metals are trading lower this morning. Dec gold brushed a session low of $1212.50 in recent action and is now down 0.2% at $1214.60. Dec silver traded as low as $12.57 but has been inching higher in recent trade. It is currently at $17.71, or 0.8% lower.

Nov crude oil pulled back from its session high of $91.82 set at pit trade open and is slipping deeper into negative territory. It touched a LoD of $90.77 and is currently down 0.9% at $90.86.

Oct natural ... More
More Market News