Today's millionaires aren't feeling very wealthy
A survey finds that even those worth up to $4 million wish they had fewer financial constraints on their activities.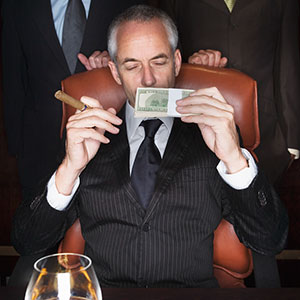 What constitutes wealth in the U.S. these days? It depends on the context.
If you're talking about wealth in relation to the minimum wage, billionaire Charles Koch assures America that the path to riches requires a mere $34,000 a year. If we're discussing wealth in the Western, above-the-paupers sense, then even $4 million doesn't seem to cut it.
The UBS (UBS) Investor Watch asked 4,450 investors whether they consider themselves wealthy. According to CNBC, 60% of those worth $5 million or more said they are indeed wealthy, while only 28% of those worth between $1 million and $5 million said the same.
But what are these folks thinking when they hear the word "wealthy," and why aren't all the people envying those fat stacks of cash thinking the same?

Well, for one, the millionaires' goals are different. Only 10% told UBS that being wealthy means "never having to work again" -- that's just "rich." Only 16% think "surpassing a certain asset threshold" makes a person wealthy. It's gauche to count your money.
Nope, the broadest definition of wealth -- the one more than half of the survey's respondents embrace -- is "no financial constraints on activities." This is a group whose impulse buys include last-minute hikes in the Himalayas and the cute 40-acre property they saw while on holiday.

With this goal in mind, they're keeping 23% of their assets in cash, which is the highest level since 2010.

Those cash holdings alone would exceed the definition of "rich" that Americans gave in a late 2011 Gallup poll, which found a yearly income of $150,000 would be enough for most people to consider themselves rich. Those making less than $50,000 a year -- the Census Bureau's median annual household income -- would feel well off with $100,000 a year.
That's not an insignificant distinction, as the definition of wealth tends to vary widely by class. An Ipsos Mendelsohn poll taken last year asked Americans earning $100,000 or more annually to define who they felt was in the 1% targeted by Occupy Wall Street. On average, they cited people making at least $1.4 million a year. In contrast, the federal government says it takes only $325,000 a year to make that elusive 1%.
Last year, Fidelity surveyed 1,000 millionaires with an average worth of $3 million and asked them what it would take to make them wealthy. The answer? About $5 million in investable assets, which is down roughly a third from the $7.5 million they felt they needed a few years back.
Given that range of responses, there's only one consensus answer to the question of who qualifies as wealthy in America: anyone earning and putting away more than you are.
DATA PROVIDERS
Copyright © 2014 Microsoft. All rights reserved.
Fundamental company data and historical chart data provided by Morningstar Inc. Real-time index quotes and delayed quotes supplied by Morningstar Inc. Quotes delayed by up to 15 minutes, except where indicated otherwise. Fund summary, fund performance and dividend data provided by Morningstar Inc. Analyst recommendations provided by Zacks Investment Research. StockScouter data provided by Verus Analytics. IPO data provided by Hoover's Inc. Index membership data provided by Morningstar Inc.
MARKET UPDATE
[BRIEFING.COM] The stock market finished an upbeat week on a mixed note. The S&P 500 shed less than a point, ending the week higher by 1.3%, while the Dow Jones Industrial Average (+0.1%) cemented a 1.7% advance for the week. High-beta names underperformed, which weighed on the Nasdaq Composite (-0.3%) and the Russell 2000 (-1.3%).

Equity indices displayed strength in the early going with the S&P 500 tagging the 2,019 level during the opening 30 minutes of the action. However, ... More
More Market News