Tokyo savors the thrill of victory, for now
Awarded the 2020 Summer Olympics, it has high hopes for a big economic boost from its huge financial commitment.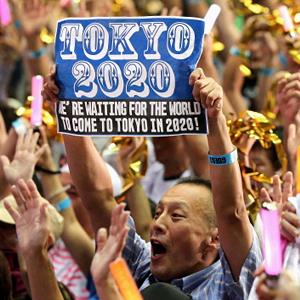 It is worthwhile for your home town to host an Olympics? After all, a summer or winter games can generate billions of dollars for any city and nation that gets the Olympic nod.
Over the weekend Tokyo, beat out bids by Istanbul and Madrid to win the International Olympic Committee's approval as host for the 2020 summer games.
The Japanese have been awarded Olympic Games before, which probably helped their latest bid. Tokyo was the site of the 1964 summer games, while Sapporo and Nagano hosted Winter Olympics in 1972 and 1998, respectively. But a big consideration in the award process is the financial commitment each candidate city is willing to make.
The Associated Press reported Istanbul had planned to budget $2.9 billion for the building of Olympic venues and billions more in projected spending on related infrastructure like trains, roadways and utilities.
The Spanish, still dealing with a major recession, had a decidedly low-budget bid for a 2020 games in Madrid, estimated at around $1.94 billion. It planned to "take advantage" of the city's existing infrastructure. Tokyo, on the other hand, offered $4 billion for the Olympic venues and village alone.
The overall costs of throwing these massive, international parties have never been cheap, but they've certainly become monstrous over the ensuring decades. The Economist points out the 1948 Olympics in cash-strapped, post-war London cost about $30 million in today's money. But the 2008 games in Beijing required China shelling out a estimated $40 billlion -- a record that next year's Winter Olympics in Sochi, Russia, is expected to break.
Problem is, the projected economic advantages an Olympic Games are supposed to bring the host city don't always materialize. Hotel bookings in Beijing were reported to have dropped during the games there. And some of the venues Greece created for its 2004 Summer Olympics -- at a cost of $15 billion and with hopes of helping financially revitalize the nation -- have been abandoned and are crumbling away.
Even when you consider the years of disruptions an Olympic Games can bring to a city, it appears the events are nonetheless popular with the cities that end up footing the bills. According to the Economist, the IOC said public support for hosting the 2020 games was about 70% in Tokyo, 76% in Madrid and 83% in Istanbul.
The Japanese, however, seem to believe the 2020 Olympics will bring the long-term financial jump-start their economy needs to stay competitive after years of stagnation, worsened by both the global recession and the country's 2011 earthquake, tsunami and nuclear disaster. Quoting Tokyo officials, The Japan Times estimates the 2020 games will generate ¥3 trillion (about $30 billion) in economic benefits for the entire nation.

That would earn a gold medal for stimulus.


Just about every city takes a huge loss to host the Olympics, at least over the last few decades.   All of these bid packages are based on unrealistic revenue projections that inevitably come in way under the forecast.   The games in Tokyo will be no different.  The Japan Times is estimating $30 billion in economic benefits?  Go ahead and count on half that.  Just what Japan needs - another economic debacle.  Thank God Obama was too incompetent to convince the IOC to choose Chicago for 2016.

Are you sure you want to delete this comment?
DATA PROVIDERS
Copyright © 2014 Microsoft. All rights reserved.
Fundamental company data and historical chart data provided by Morningstar Inc. Real-time index quotes and delayed quotes supplied by Morningstar Inc. Quotes delayed by up to 15 minutes, except where indicated otherwise. Fund summary, fund performance and dividend data provided by Morningstar Inc. Analyst recommendations provided by Zacks Investment Research. StockScouter data provided by Verus Analytics. IPO data provided by Hoover's Inc. Index membership data provided by Morningstar Inc.
MARKET UPDATE
[BRIEFING.COM] Equity indices remain near their best levels of the session with the S&P 500 trading higher by 0.4%.

Although the third week of September is nearing its end, there is still one big unknown that needs to be resolved ahead of the weekend. Specifically, the results of the Scottish independence referendum are expected to trickle in during the course of the night.

Many European banks have announced that their foreign exchange desks will be fully staffed in ... More
More Market News
TOP STOCKS
Meet Alibaba's new billionaires
Despite its size, the IPO will create just two new members of the 10-figure club from its executive ranks. A few others could net hundreds of millions.