Top Super Bowl ticket prices could double
The NFL may boost the cost of club-level seats at February's championship game to $2,600.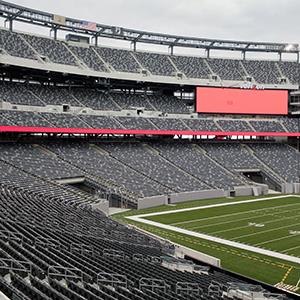 The idea of watching pro football's premier event from the comfort of your living room couch is looking better by the moment. That's especially true when you consider the upcoming Super Bowl in February will be played outside, in the depths of a New Jersey winter -- and that ticket prices for the championship game might soon go through the roof.
The Wall Street Journal says the National Football League is about to approve a deal that would more than double the cost of the best Super Bowl tickets at MetLife Stadium (pictured) across the Hudson River from Manhattan.
Prices for the choice club-level seats are expected to cost around $2,600 each -- up from the top price of $1,250 at last year's Super Bowl in New Orleans. The next tier of tickets, "according to three league officials familiar with the plan," will run around $1,500, compared to $950 for similar seats at the New Orleans event.
The NFL says about 39% of the 77,500 seats at Super Bowl XLVIII will cost $1,000 and under, with the cheap seats coming in at $500. But that means nearly two-thirds of Super Bowl tickets are a grand or more.
Why the huge markup? "That's because the Super Bowl is an insider's game," notes Peggy McGlone at NJ.com.
"There are no sales to the general public," she adds, "but rather a series of insider lotteries that keep the tickets in the hands of its supporters -- that is, until they turn around and sell them to their favorite ticket broker for a big payday."
And it seems the NFL wants more of that action. "We are looking to close the gap between the face value of the ticket and the true value of a ticket to what has become the premier sports and entertainment event," league spokesman Brian McCarthy said in a statement to The Journal.
Plus, the game is being played in one of America's most densely populated, high-cost regions, so the odds of people paying ludicrous prices for a chance to freeze at the Super Bowl go up.
It's gotten to the point where even New Jersey Governor Chris Christie won't have access to the governor's box at MetLife Stadium for the big game.
"The governor does not have a suite for the Super Bowl," Christie's spokesman said in response to questions from The Star-Ledger of Newark, N.J. Does that mean he'll be watching from a Jersey Shore sports bar? Not likely.

"He is the governor of New Jersey and a huge sports and NFL fan," said the spokesman. "I think it's safe to say that come hell or high water, he'll be in MetLife Stadium somewhere on game day."
DATA PROVIDERS
Copyright © 2014 Microsoft. All rights reserved.
Fundamental company data and historical chart data provided by Morningstar Inc. Real-time index quotes and delayed quotes supplied by Morningstar Inc. Quotes delayed by up to 15 minutes, except where indicated otherwise. Fund summary, fund performance and dividend data provided by Morningstar Inc. Analyst recommendations provided by Zacks Investment Research. StockScouter data provided by Verus Analytics. IPO data provided by Hoover's Inc. Index membership data provided by Morningstar Inc.
MARKET UPDATE
[BRIEFING.COM] S&P futures vs fair value: -1.00. Nasdaq futures vs fair value: -0.50. Nasdaq at... NYSE Adv/Dec 0/0... Nasdaq Adv/Dec 0/0.
More Market News