Traditional pianos are playing the blues
Unless you have a Steinway, your grandmother's much-loved black-and-white ivory keys are destined to join many others in the landfill.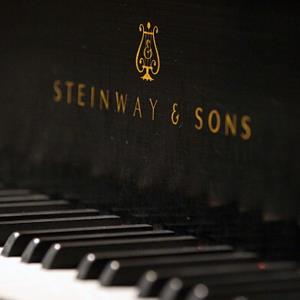 Here's some news you don't hear often in our disposable society. It involves a U.S. company started 160 years ago that's still crafting world-class products today that are much in demand. However, another part of this story is all too familiar.
Steinway Musical Instruments (LVB), maker of perhaps the most renowned pianos in the world, is soon to go private after being purchased by private equity firm Kohlberg & Co. for $438 million.

Like other companies, Steinway struggled through the recession, reporting a 20% annual decline in its high-end grand piano sales between 2005 and 2008.

And while those numbers have come back with the economic recovery, they're still being tempered by exports from China, Asia's largest piano maker.
As Al Lewis recently blogged over at MarketWatch, one way of looking at Steinway is as its own biggest rival. How's that?
"Because Steinway pianos are built to last for generations, a relatively large market exists for used Steinways," said the company's annual report. "It is difficult to estimate the significance of used piano sales because most are conducted in the private aftermarket. However, we believe that used Steinway pianos provide the most significant competition in the high-end piano market."
According to Lewis, a good Steinway appreciates at a steady annually rate of about 4%, "better than some stocks, bonds and mutual funds -- because the company raises its prices every year to maintain its renowned level of quality."
Sadly, however, the steadily rising value of a used Steinway can't be said about everyday, household pianos. Indeed, Steinway is one of the few companies anywhere bucking the trend of our current throwaway society. Once a staple piece of furniture in middle-class American homes, more pianos are ending up in trash dumps to be broken up and recycled for their wood and metal.
A number of factors are behind the decline of the traditional piano. Along with the required maintenance to keep them in tune, many are being replaced by lightweight and portable electronic keyboards or by less expensive wooden pianos from overseas.
So what do you do with a heavy, unloved and not particularly valuable piano -- especially since the instrument's lifespan is about 80 years and so many of them still out there are reaching the end of their time?
You dump them, of course -- which has been a boon for piano movers and disposal businesses in recent years.

There's at least one alternative. The owner of a New Hampshire piano-moving company has created PianoAdoption.com, a site whose mission is to find "a new home for all serviceable pianos before they end up in the local landfill." Unless, of course, your piano happens to be a Steinway.

DATA PROVIDERS
Copyright © 2014 Microsoft. All rights reserved.
Fundamental company data and historical chart data provided by Morningstar Inc. Real-time index quotes and delayed quotes supplied by Morningstar Inc. Quotes delayed by up to 15 minutes, except where indicated otherwise. Fund summary, fund performance and dividend data provided by Morningstar Inc. Analyst recommendations provided by Zacks Investment Research. StockScouter data provided by Verus Analytics. IPO data provided by Hoover's Inc. Index membership data provided by Morningstar Inc.
MARKET UPDATE
[BRIEFING.COM] The major averages ended the midweek session with slim gains after showing some intraday volatility in reaction to the release of the latest policy directive from the Federal Open Market Committee. The S&P 500 added 0.1%, while the relative strength among small caps sent the Russell 2000 higher by 0.3%.

Equities spent the first half of the session near their flat lines as participants stuck to the sidelines ahead of the FOMC statement, which conveyed no changes to the ... More
More Market News