Uncle Sam can wipe out some student debt
The government's consumer agency says the programs are there, but teachers, firefighters and other public servants aren't being informed about them.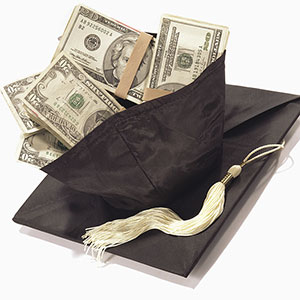 When even the government is pointing out that it's too difficult for you to get the free money it is offering, it's a pretty good sign you're getting cheated out of a better existence.
The Consumer Financial Protection Bureau announced Wednesday that the $1 trillion in student loan debt currently crushing the U.S. workforce, dampening the housing market and making life miserable for millions of recent graduates doesn't have to be this bad.

More than 33 million workers qualify to have their student loans forgiven because they work in schools, hospitals, firehouses, police stations, city halls, the military or other areas of public service.
Unfortunately, according to the government's consumer advocate, too few people take advantage of it because the programs are ridiculously complex, fraught with redundancy and hidden from plain view. The CFPB thinks that's nonsense and has called on Congress to review the loan forgiveness programs. It also wants employers to make sure their workers know they are available.
By forcing recent graduates to choose between paying down their loans and buying a house or a car or taking a lower-paying job that fulfills a public need, the CFPB says U.S. workers are sending millions of dollars to lenders instead of keeping that cash in the local communities. It also actively discourages college graduates from entering public service fields.
"We estimate that one in four working Americans has a job that meets the definition of public service under this program," said Richard Cordray, director of the CFPB. "Many of these teachers, health care workers and other public servants could be eligible to have their college loans wiped out after 10 years."
Even that's a low estimate. Workers at state departments of motor vehicles and even accountants at nonprofit arts groups qualify for the loan forgiveness programs. Their numbers pale compared to the 6.8 million people in education who could receive the benefit. The Education Department says U.S. schools will need 425,000 new teachers by the end of the decade, which is a tough draw when the National Education Association puts the starting salary of a teacher at less than $36,000.
The demand for nurses, police officers and social workers faces similar supply problems thanks to low starting salaries. The government is willing to help them out, but it seems content to just let student loan cash flow to big lenders instead. While streamlining the process would require action from a polarized, painfully slow Congress already embattled in several heated debates over benefits, the alternative of funneling even more cash to already reviled lenders could give aspiring public sector workers the financial reprieve they need.
DATA PROVIDERS
Copyright © 2014 Microsoft. All rights reserved.
Fundamental company data and historical chart data provided by Morningstar Inc. Real-time index quotes and delayed quotes supplied by Morningstar Inc. Quotes delayed by up to 15 minutes, except where indicated otherwise. Fund summary, fund performance and dividend data provided by Morningstar Inc. Analyst recommendations provided by Zacks Investment Research. StockScouter data provided by Verus Analytics. IPO data provided by Hoover's Inc. Index membership data provided by Morningstar Inc.
MARKET UPDATE
[BRIEFING.COM] The stock market finished the Thursday session on a higher note with the S&P 500 climbing 0.5%. The benchmark index registered an early high within the first 90 minutes and inched to a new session best during the final hour of the action.

Equities rallied out of the gate with the financial sector (+1.1%) providing noteworthy support for the second day in a row. The growth-oriented sector extended its September gain to 1.9% versus a more modest uptick of 0.4% for the ... More
More Market News