US goes easy on Bangladesh labor woes
Some trade privileges get suspended, but there's no harsh punishment after the deadly garment industry incidents.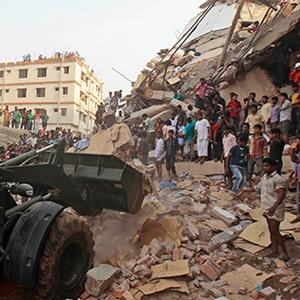 Months after the April 24 collapse of Rana Plaza (pictured) in Dhaka, Bangladesh, that
killed 1,129 people
, the U.S. is finally meting out some punishment for that country's lax labor policies.
Now stick out your wrist, Bangladesh: Here comes the slap.
The U.S. has decided to suspend Bangladesh's privileges under the Generalized System of Preferences (GSP), which allows Bangladesh to export nearly 5,000 products duty-free to the U.S. That's less than 1% of its U.S. exports and doesn't even include the garment sector that caused this review in the first place.
It also doesn't even take the Rana Plaza disaster into account.

The U.S. Trade Representative Office's review of labor conditions in Bangladesh follows a petition filed in 2007 by the AFL-CIO seeking withdrawal of the GSP benefits. The review was expedited late last year amid concern from U.S. lawmakers over deadly industrial accidents, deteriorating labor rights and the April 2012 killing of prominent labor activist Aminul Islam -- a case that has not been solved.
It's not even as if Bangladesh is being expelled from the program. It's getting a suspension that will require it to follow a road map of improvements on labor issues if it wants to restore trade privileges. And, again, the ruling does almost nothing to address issues within the garment industry.
For scale, the industry employs some 4 million people in Bangladesh. That's a population roughly akin to that in the state of Kentucky. Instead of focusing on that garment makers in light of recent accidents, however, U.S. lawmakers have just barked at U.S. retailers including Wal-Mart (WMT) and Gap (GPS). Those companies source garments from Bangladesh and have refused to join 40 mostly European companies that have adopted a five-year, legally binding contract that requires them to help pay for fire safety and building improvements.
So, in summary, Bangladesh gets a minor rebuke that may temporarily tarnish its international standing, garment companies get a scolding and a plea to police themselves and Bangladesh is no safer for its workers now than it was when Rana Plaza collapsed.
If the cheap clothes from Bangladesh aren't making us evil, they're certainly making the U.S. government and its retail partners less willing to do some good.

Interesting article. Labor issues have affected retailers before, retailers need to mitigate these risks in order to stay ahead. Came across this interesting whitepaper on risks in the retail industry and on "Enterprise risk management for consumer products companies" discussed here that readers may find useful @ http://bit.ly/17tzaW​p
Are you sure you want to delete this comment?
DATA PROVIDERS
Copyright © 2014 Microsoft. All rights reserved.
Fundamental company data and historical chart data provided by Morningstar Inc. Real-time index quotes and delayed quotes supplied by Morningstar Inc. Quotes delayed by up to 15 minutes, except where indicated otherwise. Fund summary, fund performance and dividend data provided by Morningstar Inc. Analyst recommendations provided by Zacks Investment Research. StockScouter data provided by Verus Analytics. IPO data provided by Hoover's Inc. Index membership data provided by Morningstar Inc.
MARKET UPDATE
[BRIEFING.COM] S&P futures vs fair value: -5.50. Nasdaq futures vs fair value: -13.00. Nasdaq at... NYSE Adv/Dec 0/0... Nasdaq Adv/Dec 0/0.
More Market News